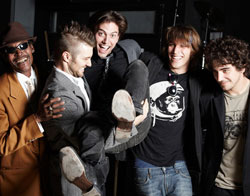 According to Rock Star Weekly:
"Twilight star Jackson Rathbone and his cohorts in 100 Monkeys return to Vancouver on March 4 at Venue for another return stop to the city that seems to be like a second home to the eclectic band of… monkeys. The independent multi-genre band from Los Angeles, California has released four albums and a handful of singles since their first visit to the Olympic city in April 2009. Their latest release is called Live and Kickin', which can be purchased at the Vancouver store Neptoon Records, where the band will be making an in-store appearance on March 6. 100 Monkeys also recently released the single Wandering Mind, from an upcoming release called Liquid Zoo."
See more on Rock Star Weekly
According to the Neptoon Records website the event is open to all ages. So, you under 21's or under 19's can get in!