We were able to see the advance footage of The Host at Comic Con. Now that we did, we have some information on where the released stills fit in in the context. It's not every still, but we have pretty solid information on several of them.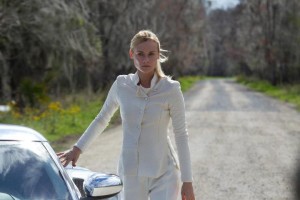 Diane Kruger is seen in this white suit which is apparently the official Seeker dress code. It's very visually stunning and oddly threatening against all the other normal colors in the film. In the books she is short and brunette; however I can tell you that the tall Diane Kruger looming over Wanderer and in another sequence chasing down Melanie in the abandoned building is very visually threatening. I don't know that a short brunette would have had the same visual effect. You can also see a tiny bit of silver car in the shot. The Seekers all drive these bright silver (almost like mirrors) cars. In one of the clips you saw the Seekers (at least 6) show up at Melanie's house which was on a Louisiana bayou. Melanie and Jamie hid under the house which juts out into the water. Their father commits suicide via handgun rather than be taken alive. In a later clip the Seekers chase down a truck of renegades. The occupants of the truck also commit suicide by crashing the truck into a wall rather than being taken.
The next two shots are interconnected and happen within a minute of each other.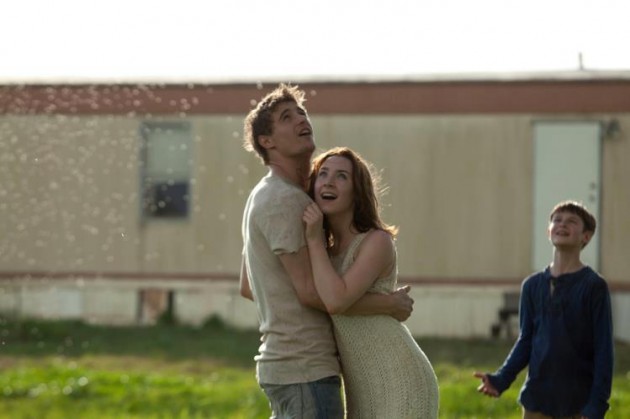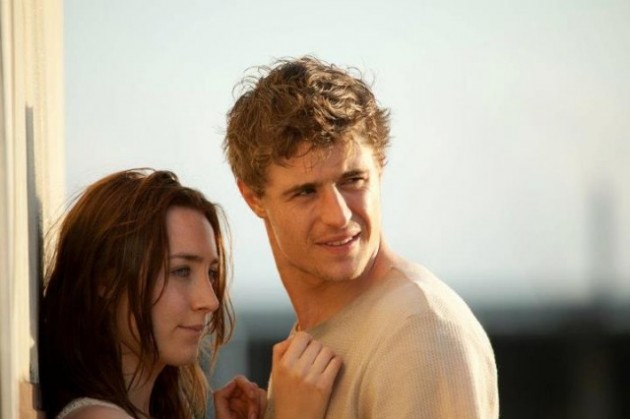 The Seeker asks Wanderer to probe Melanie's memory to discover where the renegades are. After a moment of resistance she gives up Jamie's name and Melanie's inner voice screams at her in defiance. Then she sees this entire montage of Melanie's past life from happy days with her dog, to swimming with Jamie, to hooking up with Jared(of note she doesn't mention Jared's name). The above stills are part of the Jared flashback. They are in front of an RV in the middle of nowhere and Melanie and Jared are swing dancing while Jamie holds the boom box(first photo). In fact the dance sequence is almost identical to the Breaking Dawn wedding where Jackson flips Ashley upside down. It then starts to rain and they all go to rush inside. Jamie goes in first but Jared stops Melanie at the door and he gives her a passionate kiss as she is backed up against the trailer. The second photo is immediately post kiss.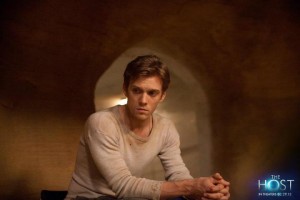 This next shot wasn't in the clips, but Jake Abel is wearing the exact clothing that he was in the clip that was shown. Kyle, Ian and another guys go to the cell where Wanderer is being kept and Jared stands guard. Kyle and the other guy double-team Jared (who gets in a hell of a good sucker punch to Kyle to start things off BTW) while Kyle yells for Ian to "kill it". Ian starts to strangle Wanderer. Wanderer just submits as Melanie's voice is screaming for her to fight back. In the clip you can see that the emotion of trying to murder someone who isn't resisting is deeply affecting Ian and he starts to let up. Uncle Jeb firing off a rifle finally breaks up the scene. So I'm taking a guess that it's him mulling over the fact that he just tried to kill someone.