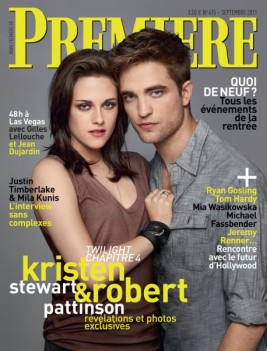 According to Digital Spy, Robert Pattinson described what Kristen Stewart looked like as pregnant Bella to Premiere magazine,"There are scenes where Bella looks like an alien. When the baby eats her from inside, she looks so thin and ghastly. Kristen had to wear this horrible make-up and when I'd see her come on set, I'd ask the crew, 'Are you sure we're filming Twilight? Isn't it supposed to be harmless and PG-13?"
Sounds to us like they are going for authentic to the book, what do you think?
The magazine hits stands today in France. You can throw the online version through Google translate to get a partial idea.
EDITED: Full English translation here of the entire article.