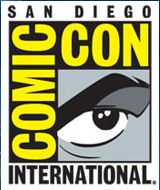 There are already reports of 50 or so Twilight fans camping out alongside Hall H. Both Laura and Jen from the Lexicon staff are currently on route to San Diego to cover this year's Comic Con. They will be setting up their tent, and it will be our remote office of sorts for the next two days or so. Here's what you can expect from us by way of coverage:
Wednesday: Live blog from the plaza next to Hall H. You never know who might drop by!
Thursday: The Breaking Dawn Panel happens at 11:15 Pacific Time and runs roughly an hour. We will be live blogging the event assuming the Internet holds out. Taylor Lautner is also rumored to be stopping by the Lionsgate booth to promote his film Abduction, and we'll stay on top of that!
Friday: We'll be attending the panel for The River, a film that Joe Anderson who plays Allister will be appearing in. We also have a couple of interviews lined up this day, but more on that as it develops.
Saturday: We will live blog The Immortals panel featuring Kellan Lutz from 1:00-2:00. Right after that we hope to live blog the Snow White and the Huntsman panel that Kristen Stewart is scheduled for 3:30-4:15.
Laura will also have here movies.com column up on Thursday as soon after the panel concludes as is possible. Now in between all this we'll be grabbing info on the fly because you never know what might happen. We'll also be feeding out YA author, Doctor Who, Torchwood, and Game of Thrones addictions while there.