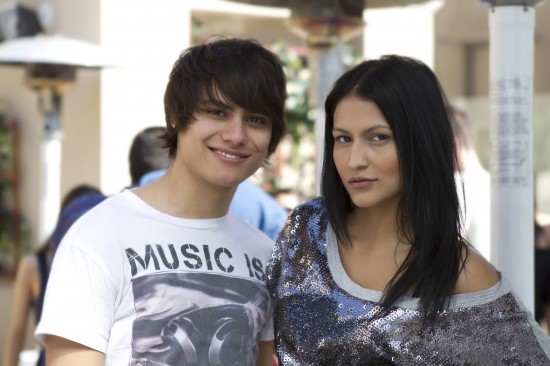 This press release just in from the Quileute Nation:
Kiowa Gordon who portrays Jacob Black's best friend "Embry Call" in the Twilight Saga films and Tinsel Korey, who portrays "Emily", the maternal figure to the wolfpack and Bella's pal, will be the featured guests for this years annual Quileute Days celebrations.
This will be Gordon's first visit to La Push, but Korey spent a week with the tribe before filming began on Eclipse in 2009. She gave acting classes at the tribal school and joined a storytelling with Chris Morganroth III on First Beach. In a statement, Korey shared, "I'm really excited to go back to Quileute and see the kids again!"
The festival which celebrates Quileute culture, will kick off Friday with the Quileute Royalty pageant and stick games. The weekend events will feature a parade Saturday at noon, a traditional Salmon Bake, the time-honored stick-games,adult and youth softball tournaments, canoe racing, poker, bingo, and a wolf pack look-a-like contest. A Native nation dance idol contest will be judged by Tinsel, Kiowa and grammy award winning native artist Star Nayea on Saturday evening. There is a family street dance Friday and Saturday nights. E-tribe, a Christian rap group is performing on Saturday. Additionally, there will be a grand fireworks display, and "Twilight" themed events happening throughout the weekend. A raffle for a "Twilight themed basket will be available for $1.00. The annual Quileute Days festival is a wonderful opportunity for "Twilight" fans and Native culture enthusiasts alike to get an exclusive glimpse into traditional Quileute tribal traditions and customs.
Tinsel and Kiowa will be signing autographs on Saturday at the Quileute Tribal office from 2:30-4pm on Saturday. The cost of the autograph is $20.00 for each actor and you have the choice of the following. You can select from their official Twilight Saga:Eclipse head shot, you may take a photo with your personal camera or you may purchase a Quileute days t-shirt to have autographed. Eclipse DVD's will be available for purchase for $75.00 autographed by both Tinsel and Kiowa.
Chairwoman Bonita Cleveland extends an invitation to all to please join us for this wonderful celebration! "We are delighted to have Tinsel and Kiowa join us and we are equally excited that our canoe families from the Hoh, Quinalt, Qweets and Grand Ronde Tribes will be joining us as well."
If you are unable to make the event, be sure to check out www.quileute-store.com for one-of-a-kind, authentic Quileute goods!