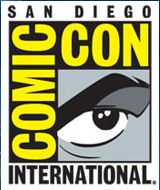 Comic Con 2011 has now released their Thursday through Saturday schedules. Granted they are subject to change, and an actor might have to suddenly bow out if their filming schedule changes or have to do ADR work. But here is what we have so far. Kristen Stewart, Kellan Lutz, and Taylor Lautner will all be there to support other projects as well as Breaking Dawn.
Thursday
"11:15-12:15 The Twilight Saga: Breaking Dawn Part 1— Summit Entertainment presents a sneak peek at the highly anticipated next chapter of The Twilight Saga. This is a must see for fans interested in the story's final chapters. You'll see exclusive footage from The Twilight Saga Breaking Dawn Part 1 and be treated to a filmmaker and cast Q&A session providing details on the first half of the epic two-part finale. Hall H "
Abduction Panel and signing official info via the Lionsgate studio TBA. Below is what we have from The Hollywood Reporter (I'd give them a 90% accuracy rate going on past Twilight connected experience):
"The news you've all been waiting for: Taylor Lautner is going to Comic-Con.
Sure, we all suspected he was going to be part of the Twilight: Breaking Dawn panel but Lautner will also be on hand to promote his action thriller Abduction. He will be at the Lionsgate booth (#3729 for those of you trying to map out the San Diego Convention Center floor) for a signing Thursday, July 21."
At this time we don't know if the signing with Taylor will come before or after the Breaking Dawn Panel. If we had to go with our gut instinct, we'd probably bet on after because there will likely be a press conference that he is involved in running before.
Friday
Nothing Twilight related yet
Saturday
1:00-2:00 Relativity Media: Immortals— Visionary director Tarsem Singh transports viewers in this epic tale of treachery, vengeance, and destiny in this stylish and visually spectacular 3D action adventure. The brutal and bloodthirsty King Hyperion and his murderous Heraklion (Mickey Rourke) rampage across Greece in search of the long lost Bow of Epirus. With the invincible Bow, the king will be able to overthrow the Gods of Olympus and become the undisputed master of his world. As village after village is obliterated, a stonemason named Theseus vows to avenge his mother, who was killed in one of Hyperion's brutal raids. When Theseus meets the Sybelline Oracle Phaedra, her disturbing visions of the young man's future convince her that he is the key to stopping the destruction. With her help, Theseus assembles a small band of followers and embraces his destiny in a final, desperate battle for the future of humanity. Stars Henry Cavill, Stephen Dorff, Freida Pinto, Luke Evans, Kellan Lutz will participate in this panel alongside producers Gianni Nunnari and Mark Canton. Hall H
2:30pm – 3:30pm: Official autograph signing at the Convention Center  including Kellan Lutz
3:30-4:15 Universal Pictures: Snow White and the Huntsmen— Universal Pictures is bringing the stars and filmmakers of its epic action-adventure film based on the script Snow White and the Huntsman to Comic-Con. Scheduled to appear to discuss their roles in this breathtaking new vision of the legendary tale are Kristen Stewart (Twilight), Oscar winner Charlize Theron (Prometheus), Chris Hemsworth (Thor), and Sam Claflin (Pirates of the Caribbean: On Stranger Tides). Director Rupert Sanders (Halo 3 campaign) and other filmmakers will also be on hand to reveal exclusive footage. Q&A session to follow. Hall H
Tags:  Action/Adventure | Movies | Science Fiction & Fantasy
Sunday
Schedule TBA