Last year we got hammered with questions starting right after Thanksgiving from boyfriends, husbands, fans, you name it on "Where can I get Bella's bedspread?" or "Do you have any idea how I can get my girlfriend Bella's engagement ring?"  So this year, we decided to put together our very own Twilight Saga shopping guide. Now there are a million vendors out there who specialize in Twilight Crafts, and we'd close for all other business if we tried to list all of them. It's not to say if something isn't listed here that that product is bad; it just didn't make our list. These are just a few of our personal favorites.
Tomorrow we will be back with part 2 which will be clothing focused.
Bella's Bedspread at Target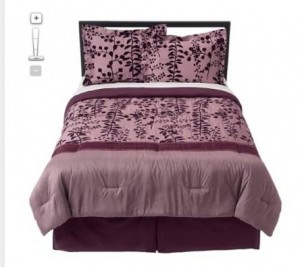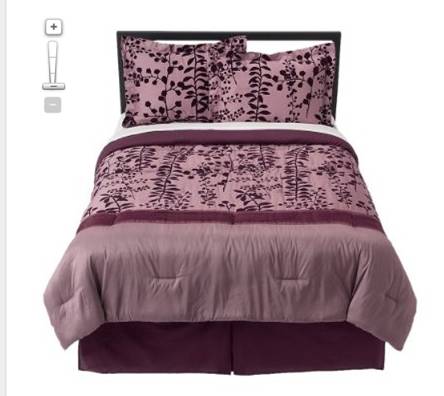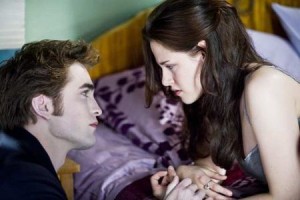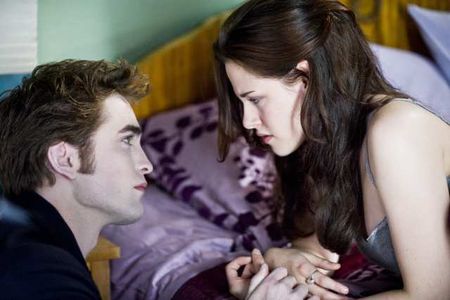 This is the lovely bedspread, also known as the purple flocked comforter found exclusively at Target.
Here's the product description:
Weave Type: Plain
Fabric Treatment: Flocked
Bed Topper Features: Jump and Tack Quilting
Bedskirt Features: 15″ Drop
Includes: Bedskirt, Comforter, 2 Shams included in Full, Queen, King, Cal King set, 1 Sham included in Twin/Twin XL set
Polyester
Fiber Content: 100 % Cotton
Number of Pieces: 4
Care and Cleaning: Dry Clean
The set comes with a comforter, 2 shams, and a bed skirt. It has an overwhelming number of 4 star reviews from satisfied customers. Occasionally Target has given us one to give away and it's traditionally been one of our hotter giveaway items. It's a nice subtle way of professing your Twilight love in the bedroom without having Robert Pattinson's or Taylor Lautner's faces loom up at you. Also, your significant other will probably never know it's Twilight connected unless you tell him. Prices range from $89.99 to $99.99 depending on size. Target's current holiday deal includes free shipping.
Bella's Bracelet ™ and Bella's Engagement Ring® at Infinite Jewelry


Before there was even a hint at a viable movie, Infinite Jewelry was producing the Bella's Bracelet ™ and Bella's Engagement Ring®. Their versions of the ring and bracelet were done in complete consultation with Stephenie Meyer. Lots of painstaking detail went into the wolf on the bracelet to get it just right. The wolf is also made of copper (to look like wood) and not wood because the designers realized that such an intricate wood carving would chip and damage in no time, and they wanted a durable product.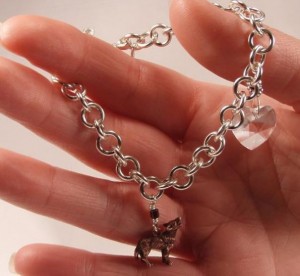 The engagement ring comes in yellow gold (just like the book description) and also white gold. There are various versions of the ring ranging from a fashion edition (given away on the Oprah Winfrey show last year, and mentioned on yahoo) all the way to a fine (real gold) and genuine (real gold and real diamonds) editions.
There are other versions of these products by other vendors, but we personally like this one better. One, the ring is more subtle than the version from the movie which we feel practically swallows your whole knuckle. Two, the wolf carving on the bracelet is the most intricate we've, seen and was done by consulting with Stephenie Meyer. In our opinion, it's hard to go wrong when Stephenie consulted on the design.
They also have other merchandise: watches, necklaces, etc. that are inspired by the Twilight Saga.
Authentic Twilight Star Autographs and photographs at Creation Entertainment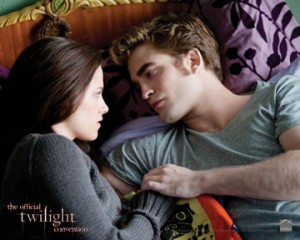 If you are going to go out and spend money on an item signed by an actor, you want to know that that particular actor actually signed the item. Creation has it's own autograph store. The actors actually signed the items at events run by Creation. We've seen a lot of fakes or misrepresentations on Ebay. Thanksgiving weekend Creation has a free shipping special going. Take advantage of it while it lasts.
Aside from their autograph area, they have a photo collection of high quality 8  X10, glossy studio stills and poses that are exclusively at their site (see photo at left). They are perfect for decorating rooms, lockers, etc, and at $ 6.00 it's hard to go wrong. Call it an over-sized stocking stuffer.
Creation also runs the Official Twilight Tour in the US.  So if you need convention tickets, from a company that has been in the fan convention business for over 30 years, check them out here.
In fairness of full disclosure, the Lexicon has appeared on panels at a number of Creation Events.
Twilight Saga Calendars, Twilight Saga Deluxe Scene It and more at Amazon
There is every style of calendar that you can think of from various version of 16-month to the traditional 12-month. Amazon has some other great deals like the  complete Twilight, New Moon, and Eclipse trading card sets, and the new, deluxe version of Scene It. The links go to the Lexicon Amazon store. A portion of the funds help to keep us running.
Twilight Saga Dolls at Tonner Dolls and Barbie
Tonner Dolls has been in the fine doll production business for years. They recently added new Bella and Edward models to their collection. They also have Alice for the first time, as well as all the villain vampires from Twilight. The Alice description reads:
"ALICE CULLEN is the latest member of the CULLEN clan to join Tonner®'s line of TWILIGHT TCF™s.  ALICE arrives wearing a costume reproduction from NEW MOON, and includes a striped blouse with bow tie collar, slim cut twill pants, plush corduroy vest, knit socks, and faux leather ballet flat.  ALICE's CULLEN crest necklace is also included.   Ashley Greene Head Sculpt w/ 16″ Ballerina Bust Tyler Convertible Body; Amber Eyes with Wigged Hair and Cameo Skintone"
In fairness of full disclosure, they are an advertiser on the Lexicon.
Now if you are a Barbie collector, there are a series of dolls to fit the bill. Aside from the trio, there are Jane and Victoria. We just bought the Victoria doll and the detail is fantastic, especially the hair color and style
You can catch the entire collection on Amazon. The links go to the Lexicon Amazon store. A portion of the funds help to keep us running.