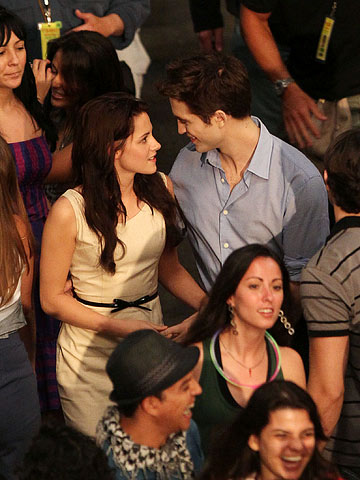 When pictures came out of Kristen Stewart wearing that white dress in Brazil everyone wanted to know who made it and where they could buy it. Right away, eagle-eyed fans realized that her shoes were Michael Kors peep-toed pumps…but the dress?
Summit provided the answer to us. Sadly for people wanting to purchase it, the dress is a one-of-a-kind vintage item, so sorry you won't find it down at Macy's. On the other hand, COOL! it's exactly the type of item that Alice would have selected for Bella to wear.
In other news, there are various rumors about Kristen Stewart not wearing a lot of anything in Breaking Dawn. Gossip Cop addresses those rumors.  The movie will still be PG-13, but you can have sexy scenes in PG-13 movies assuming things are strategically covered.