Stephenie Meyer, Jake Abel, Max Irons and Diane Kruger all stopped by The Grove.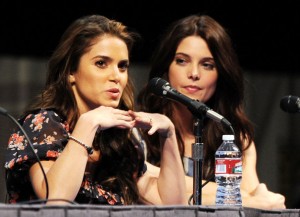 We just got this from EXTRA:
I just wanted to let you know that we have TWO 'Twilight' stars visiting 'Extra' at The Grove in LA TOMORROW, Tuesday October 2nd!

2:30PM Ashley Greene

3:45PM Nikki Reed

We will be selecting a few fans to ask questions LIVE on the EXTRA stage.
Jack Morrissey, Bill Condon's partner tweeted pictures of a display at The Grove (a see and be seen shopping mall in Los Angeles) that is Breaking Dawn Wedding themed. he even snapped a picture of Bill Condon checking it out. (Click to enlarge photos)