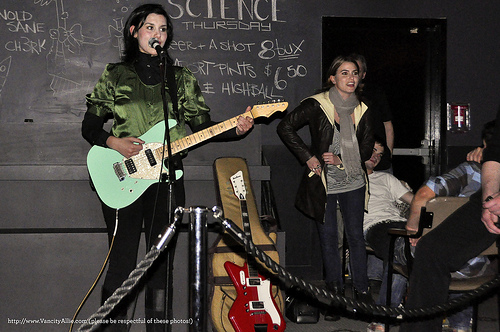 Nikki Reed and one of her closest friends the musician, Sage, gave joint interviews to Twilight Moms about their careers and joint interests. Earlier this year Nikki directed a music video for Sage. Back when they were filming New Moon, Sage played a few gigs in Vancouver and Nikki helped set up the stage (photo credit above: Vancity Allie, see video below and Vancity Allie's blog)
Sage from the Dills Performs at Metropole (with Nikki Reed, Kristen Stewart, and Taylor Lautner in attendance) from VancityAllie on Vimeo.
"If you can meet anyone, living or dead, who would it be and why?
If I could meet anyone, it would probably be my mom's mom, who died long before I was born. I'm not really interested in meeting people I idolize because I want to continue to see them as in whatever way they show themselves to the public.
What do you 'fan girl' about?
I am currently obsessing hard over Hanson. I've even written them fan girl letters. I'm not kidding.
What is one thing you want to do in life that you haven't yet?
I want to jump out of an airplane. Maybe Ill attempt that next year."
See more on Twilight Moms. (You have to scroll a bit, but you'll find it)