Lexiconer Catherine Melissa alerted us to a website that was supposed to be run by Nikki Reed. Well, we checked it out, and it is in fact run by Nikki! It's called IAmNikkiReed.Com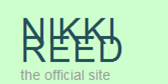 There's lots of great content from Nikki about everything from a trip to Africa to early childhood experiences in Illinois, to musings on what real friendship is.
Check it out! Next step, getting Nikki on Twitter so we know when she updates her site!
Welcome to the web, Nikki! We are glad you're here!