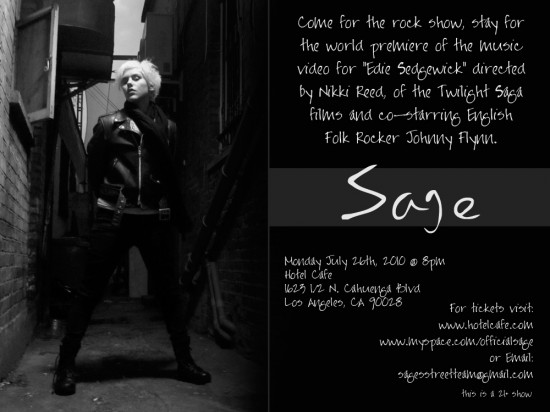 Nikki Reed has been a long time friend of the singer Sage. Nikki just directed the bands new music video. A rep for the band writes:
"Monday July 26th we will be premiering the highly anticipated "Edie Sedgwick" music video that was directed by Twilight's Nikki Reed and stars Sage along with English folk rocker Johnny Flynn.
Sage will be doing a concert at Hotel Cafe in LA at 8pm with special guest musicians from the LA band Carney and following the show we will be showing the world premiere of the music video."
In speaking about Sage's music, Nikki Reed said:
"What speaks to me about Sage and her music is the undeniable power and creativity that in itself is enough to turn heads. Through its many transformations and rebirths, Sage's music has never lacked originality and confidence, from her voice to her style. She is a woman with a vision, which is inspirational to all of us. I have lived and learned a lot with Sage, and I am absolutely thrilled to have had the opportunity to be a part of this experience, and share her music with the world."
So if you are in the LA area, check it out! Also check out Sage's Official page at MySpace here.