There is an Eclipse Trivia game on IPhone/ITouch and Clevver TV has the preview.
Brandon, the university student who is doing a twilight video game as part of his degree in game design, needs the assistance of a graphic designer. Details for this voluntary position are on his MySpace. Give him a shout out if you can help.

There's a Twilight Quiz over on How Well Do You Know. Currently the easy version is up. They are promising a much harder and advanced  version on Sunday.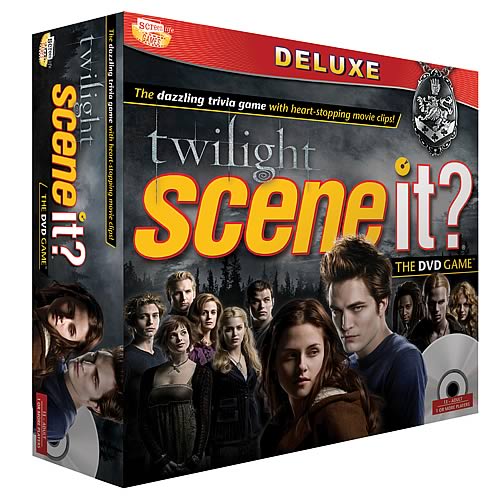 If you're a Scene It fan, a Twilight Scene It is in the works.
The game features, "…clips, questions and puzzlers from the highly successful Twilight franchise and includes content from New Moon! From the Twilight-themed puzzles to the customized mini-games and bonus activities, Scene It? Twilight Edition will immerse players in the Twilight saga and is sure to resonate with fans of all ages. Game includes game DVD, 4x collectible metal tokens, 150x trivia cards, 30 fate cards, 1x 6-sided die, 1x 8-sided die, and instruction sheet."
TY to Twilighters Anonymous for the detective work on this one.
Intoxicated Twilight has a great costume contest going on with an awesome prize pack:
1 Twilight 2 disc DVD (NTSC DVD, for North American players only)
1 Twilight Soundtrack
1 Twilight P-1 Trading Card
1 Twilight Special Edition Wal-Mart Gift Card (no money loaded)
1 8×10 Bella Glossy Promo Photo
1 8×10 Edward Glossy Promo Photo
1 Twilight 2009/2010 Poster Calendar
1 set of How to Be promotional cards
1 Robert Pattinson: Eternally Yours book
1 Director's Notebook
Need more Edward and Bella? Well they are now available for order at Hot Topic.
Wonder if Lauren's Bite will get Pocket Edward a friend?
Twilight UK has an upcoming contest to celebrate the UK DVD launch.
1 Twilight poster signed by Rob and Kristen
2 Twilight Posters (HUGE) signed by Rob, Kristen and the lovely Catherine Hardwicke
1 Baseball signed by Kristen and Catherine
and
5 Twilight DVDs (this is the UK version, which contains UK Premiere footage exclusive to the UK, UK Theatrical Trailer and UK Theatrical TV spots)