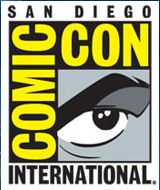 Here's where you can find Breaking Dawn Part 2 and Twilight actors on Wednesday and Thursday of Comic Con.
Wednesday July 11: 6:00-9:45 Special Sneak Peek Pilot Screenings Ballroom 20
Sneak peaks at Revolution starring Billy Burke (Charlie) and JD Pardo (Nahuel)
Revolution — What would you do without it all? In Revolution,  an epic adventure thriller from Supernatural's Eric Kripke, J. J. Abrams' Bad Robot Productions, and Iron Man's Jon Favreau, a family struggles to reunite in a post-apocalyptic landscape of empty cities, local militias, and heroic freedom fighters where every piece of technology-phones, computers, cars, even lights-has mysteriously blacked out…forever. Revolution stars Billy Burke (Twilight films), Tracy Spiridakos (Being Human), Anna Lise Phillips (Animal Kingdom), Zak Orth (Wet Hot American Summer), Graham Rogers (Memphis Beat), J. D. Pardo (The Twilight Saga: Breaking Dawn-Part 2), Giancarlo Esposito (Breaking Bad), David Lyons (The Cape), Maria Howell (The Vampire Diaries), and Tim Guinee (Iron Man films) and is executive produced by Kripke, Abrams, and Bryan Burk (Fringe). Favreau directed the pilot and will serve as co-executive producer of the series, with Kathy Lingg (Fringe). From Bonanza Productions Inc. in association with Bad Robot Productions, Kripke Enterprises. and Warner Bros. Television, Revolution will air Mondays at 10/9c on NBC this fall.
Sneak Peak of The Following starring Valorie Curry (Charlotte)
The Following — Golden Globe winner/Emmy nominee Kevin Bacon (Mystic River) and Rome's James Purefoy star in The Following, a cat-and-mouse thriller from Kevin Williamson (The Vampire Diaries), about a diabolical serial killer (Purefoy) and the psychologically scarred ex-FBI agent (Bacon) called in to stop him. The Following also stars Natalie Zea (Justified), Jeananne Goossen (Alcatraz), Shawn Ashmore (X-Men films), Valorie Curry (The Twilight Saga: Breaking Dawn-Part 2), Nico Tortorella (Scream 4), Adan Canto (Amar No Es Querer), and Kyle Catlett (Unforgettable), with Maggie Grace (Lost) recurring. Executive produced by Williamson and Marcos Siega (The Vampire Diaries), The Following is from Bonanza Productions Inc. in association with Outerbanks Entertainment and Warner Bros. Television and will air on Mondays midseason on FOX.
Thursday July 12 Breaking Dawn part 2 Panel Hall H
12:45-1:45 The Twilight Saga: Breaking Dawn-Part 2— Summit Entertainment presents a sneak peek at the highly anticipated conclusion of The Twilight Saga films. This is a must-see for fans interested in the story's final chapter. You will be shown exclusive footage from The Twilight Saga: Breaking Dawn-Part 2 and be treated to a cast and filmmaker Q&A session providing details on the epic finale. Hall H

NOTE: There is no indication as to what (we are assuming something big is TBA) precedes Breaking Dawn in Hall H. 12:45 is the mid-day time slot. Following Breaking Dawn is a Walt Disney panel with a look at Tim Burton's new film which is his take on Frankenstein. So our take folks is CAMPING WILL BE REQUIRED or no guarantee of getting in. Also of note is that these schedules change. If you remember, back in the New Moon Comic Con appearance, we were originally after an AVATAR presentation and then they flip-flopped the order. Stand by, there may be some juggling after they announce other Hall H properties.
EDITED: Note there are very specific rules as to when you can arrive and what you are allowed to have if you choose to sleep out on the street to secure a place in Hall H. See the details here. Prohibitions include tents, barbacues, etc. https://www.twilightlexicon.com/2012/06/28/comic-con-and-the-no-camping-rule/