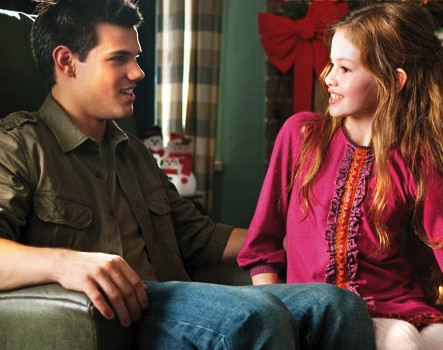 Mackenzie Foy plays Renesmee in Breaking Dawn part 2. She sounds like she's a really well-adjusted kid who is talented.
According to EW
Foy grew up outside of Los Angeles and has been working steadily — she booked her first gig, modeling for Ralph Lauren at the age of 3 — modeling, appearing in commercials, and acting on TV shows such as 'Til Death, Hawaii Five-O, and Flashforward. She picked up some new skills while shooting Breaking Dawn, thanks to her famous costars. Taylor Lautner taught her how to throw a football and Kristen Stewart gave her tips on summoning tears onscreen. ("She said to think of something sad for a very long time.")

The actress, who is homeschooled, just completed fifth grade. She says hopes to continue being an actress — and eventually a director — for the rest of her life. But in the near future?  "I'm going to swim and eat popsicles."
Here is how much Bill Condon liked her in a question that Laura asked last year.
One of my favorite movies is Jerry Maguire with the line, "You had me at 'hello'". Was there anybody in that casting process that maybe you didn't know and then you were just like, "Whoa, you had me at 'hello'!" Who was your—
BC: You know who? Mackenzie Phillips. I mean—Foy…Mackenzie.
(laughter)
BC: She's a perfect, perfect—yeah, [inaudible] Mackenzie Foy. Mackenzie Foy was like, wow that's it. She looks like their daughter and there's just a quality she had, you know. I mean and it was such a relief because Renesmee was so tough to picture and imagine, you know? So I have to say she was just like, I think we've got it right there 'cause it's possible. And then I showed her to everybody else and everybody agreed.
This video is a really good example of her just being a kid.