PEOPLE magazine celebrates with a special collector's issue, The Stars of Twilight'sBreaking Dawn, featuring a sneak peek on their wedding and honeymoon, plus the real-life stories of the Twilight actors (Robert Pattinson, Kristen Stewart, Taylor Lautner, Ashley Greene, Kellan Lutz)who are fan favorites. This special newsstand-only issue of PEOPLE is loaded with 126 photos from the movie, behind the scenes, and much more.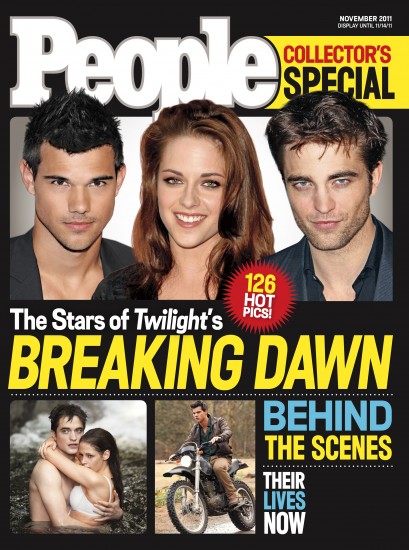 Highlights from the issue include:
A New Dawn: A wedding! A baby! PEOPLE reports on all the scoop on the latestTwilightflick, as Bella and Edward's legendary love story nears its fairy-tale ending.
Behind the Scenes: PEOPLE takes a sneak peek at the movie's tropical location shoot in the Virgin Islands, St. Thomas, and a town near Rio de Janeiro.
On the Rise:Now that his days as Edward Cullen are nearing an end,Robert Pattinsonis looking to make the most of hisTwilight fame. PEOPLE reports on what's next for the heartthrob actor.
Happily Ever After: Life post-Twilight is looking like a fairy tale forKristen Stewart, who's becoming a rising fashion icon with her pick of A-list roles.  Up next:Snow White.
All Fired Up:Twilight launched Taylor Lautner's career. Abduction catapulted him to action hero. Can the teen phenomenon keep blazing his way through Hollywood?
Twilight's Hottest Bodies:One majorly pumped-up vampire and a trio of ripped wolves– here's to the saga's supernaturally spectacular physiques:Kellan Lutz, Taylor Lautner, Boo Boo Stewart and Alex Meraz.
Vampires in Love:As Bella and Edward head down the aisle, the real-life romance between Robert and Kristen is still going strong – and getting more public.
Bella's Big Day:Catch a glimpse of the highly anticipated gown from the movie wedding of the year. PEOPLE takes a look at the details that went into creating Bella and Edward's magical "I do" moment.
Vamping It Up: Want to dress like Ashley, Kristen or Nikki Reed?  PEOPLE shows the steps to achieve the off-set style of Twilight's favorite cast members with wardrobe and accessories.
Looks To Die For: PEOPLE reveals the best hair and makeup secrets from the cast.
Extreme Fans: Some of the amazing – and often painful – ways that fans show the depth of their devotion to theTwilight phenomenon.
The magazine hits newsstands Oct 14th and can be found until Nov 14th.   What are you most looking forward to from the special edition?