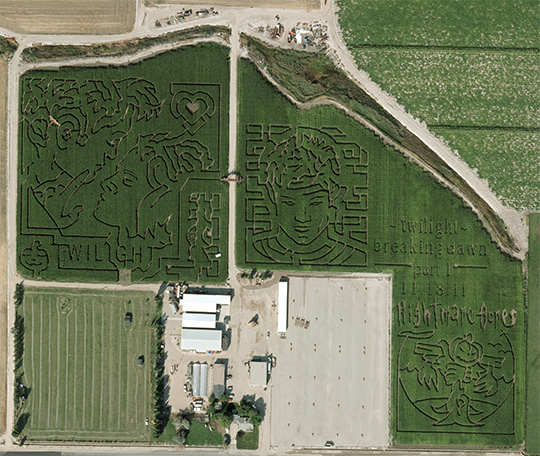 Black Island Farms in Utah boasts having the largest corn maze in the state. For the last couple of years they have done Twilight themed corn mazes. This year they are back again and they are grateful for the support. Their Eclipse maze was a big hit last year, and so was their New Moon maze the year before that.
According to the Standard
Owner Dorothy Law said the theme of this year's maze is "Breaking Dawn," a sequel in the popular "Twilight" saga. The cornfields — with twists, turns and dead ends — are designed to look like the faces of the actors: Taylor Lautner, Robert Pattinson and Kristen Stewart.

Besides the maze and hayrides — which include a pumpkin for every passenger — there is a farmer's market, animal alley, cow train, corn cannon, pig races, a haunted house, a grain-chute slide and many other activities.

"It's really neat to see so many people here," Black said, adding that organizers are hoping 50,000 people will come to the farm.

"At night when the lights are on and you're in the maze where the fire pits are, it's magical," Black said.

Because of the way the venues are set up, he said, it doesn't seem that crowded, even at the busiest times.

Dorothy Law said by opening the farm to the public, her family has a chance to teach visitors why farming is so important for the country.

"At the rate farms are being sold, the U.S. will soon be relying on other countries to import fresh vegetables and fruits," she said, pointing out that Black Island Farm is not just a place for entertainment, but a "real working vegetable farm."
If you are in Utah check them out! Full details on their website.