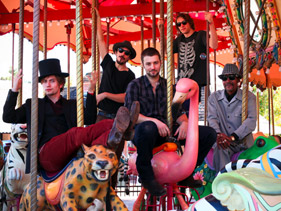 Chicago Now Interviewed Jackson Rathbone as he and 100 Monkeys continue their cross-nation tour:
"It would seemingly be difficult to have a good majority of your fan base wearing "Team Jasper" t-shirts. With "Twilight: Breaking Dawn Pt. 1" hitting theaters soon, vampire fever must be at its highest. What I find interesting is that instead of shunning it, the band seems to play into it a little? What's it like being on that side that has the underlying theme of a band member being part of one of the most successful movie franchises?
Jackson Rathbone: Well, it's just one of those things. "Twilight" was a huge phenomenon. You know, I think everyone's been a part of it and has been wrapped up in it in a certain way. But at the end of the day, we're all just a bunch of artists in the entertainment industry. Our goal is to make people happy. Whether its for an hour and a half at a film or for an hour and a half at a rock show. At the end of the day, its about putting a smile on someones face, and a bounce in their step.
I've seen that 100 Monkeys sometimes brings guests on stage, has Rob Pattinson ever jammed out with you guys?
Jackson Rathbone: Oh, ah, you know, ah yeah. He has before. One of the reason he played with our band 100 Monkeys was because when we were first getting started, we had the idea that anyone could come up and start playing with us. For a long time we had a section on our band page that was "Other Monkeys". People who have come up with us and jammed at long shows or people who jammed with us on recordings. And that is just part of us and what we do. We are always open to other musical acts. That's one of the reasons we love touring is b/c we get to see other bands. We get to see different styles of music from across the world and our doors are always open to anyone who wants to play music."
See more on Chicago Now.