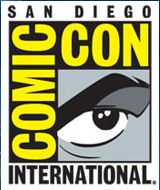 This from Summit:
"THE TWILIGHT SAGA: BREAKING DAWN – PART 1 is the first scheduled Comic-Con panel on Thursday, July 21!
Please let all of your readers know, and make sure to tell them to start camping on Wednesday to guarantee their seats inside of Hall H!
More info to come as the date approaches…"
For those of you who have tickets (they are sold out) and have never done Comic Con before, Hall H is the big hall at Comic Con. The camping area is the far South end of the convention center where there is a large plaza. Fans sleep out to get a spot in Hall H (roughly holds 6,000 people). In our favor, Breaking Dawn is on Thursday, not considered a big day like Friday and Saturday. However whatever is in Hall H that day will all be vying for seats. The way it works is first come first serve to the seats. So camping out gives you a better shot at getting one, because people can sit in Hall H all day waiting for whatever the big show they want. Depending on how popular whatever is scheduled after the Twilight panel is will determine how intense that camp out crowd is.
Also some advice from folks who attended in the past
Another excellent resource of advice