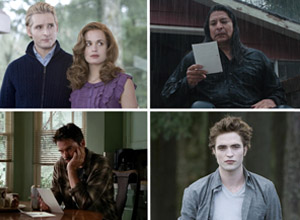 The Male Twihard blogger over at Next Movie just did a piece on which Twilight character makes the best dad.
"I am not a father, nor do I even pretend to know how to be a good one. (It involves owning a briefcase and knowing how to throw a baseball back and forth, I believe?)
However, I do know "The Twilight Saga." So with Father's Day coming up this weekend, I'm paying tribute to the dads from the series.
But who is the best "Twilight" dad? (Besides all of them?) Allow me to lay out the facts.
Charlie Swan, Carlisle Cullen, Billy Black and (future screen daddy) Edward Cullen are the men under the microscope. While everyone has their own ideas on what makes the best father, I've done some in-depth research (thanks, Ask Jeeves!) and these are the qualities most will agree on:
They should be of high integrity, but never high on other things. They should be able to provide for their kids, meaning they need some cash money — Benjamins, if you will. And a father needs to be responsible, offer guidance, and spend quality time with children. These are proven techniques that keep daughters (and sons) off the stripper pole."
His analysis is tongue-in-cheek and hilarious. Check it out.