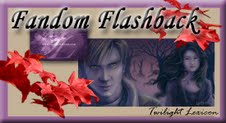 I was introduced to Twilight by a friend of mine from church in January of 2006. Like so many of you who fell in love with the story, I went on line to look for other people who liked the story that I could talk to. There wasn't much to find at the time. What I did find was that Stephenie Meyer had her own website full of pictures of her trip to Forks with her sister, a few outtakes from the book, and some information on what had happened at a few of her book signings. The way she described it, before the actual signing she met with about 10 – 15 fans and just sat and chatted about Edward and the story in what she called an "I Love Edward Cullen" party. I was jealous. I wanted to go to one of those! Unfortunately, these were all held in October – December of 2005 just after the book released and were mostly out west in Utah and Arizona where Stephenie was from. Still, once I leaned there would be sequels to the series I was determined to someday be at a book signing and gush with Stephenie about how much I had fallen for the character of Edward Cullen.
Continue reading under the cut…
My chance came when New Moon was released. By that time, however, I had opened the Lexicon and had been exchanging e-mails with Stephenie. I actually met Stephenie face to face at BEA in Washington DC a month before, so the book signing was a second meeting. Regardless, I was just as excited and giddy to actually be at my first Stephenie Meyer book signing. (Here is a photo of me with Stephenie at BEA. Her computer was open to Eclipse.  And Laura got Steph to open her Forever Dawn file and tease us with the opening sentences!)
It was October 2006 and the event was held in Texas. (I should explain that I have family in Texas and they begged me to come down and take them to the event. They really didn't have to beg as I wanted to be there!) We first went to an actual book store to hear Stephenie give a Q and A and have our books signed.  I think it was a Barnes and Noble but I just can't remember.  There were about 200 people, mostly teenage girls, filling the upstairs section of the store. They had some chairs set up, but the line snaked through the stacks.
When Stephenie came out, she would talk a little about how the book came to be and then she would take random questions from those in the audience.  She would just point at someone and they would ask her a question, which often led to many repeated questions about basic information.  And of course, the main question was always, "Will Bella become a vampire?"  For the New Moon book signings, Stephenie had to deal with the real birth of the Team Jacob vrs Team Edward debate!
I believe that Stephenie had posted somewhere that she loved seeing great fan made shirts! Keep in mind that the only Twilight related merchandise we had at the time were the books and the "Bite Me" shirts that Stephenie sold out of her house through her website. There were so many Team Edward/ Team Jacob shirts of course. But the more creative they shirts were, the more other fans fussed over them. I walked along the line taking pictures of some of my favorites. I do have a few of them still, even though that was 3 computers ago! (Yes, I've gone through 3 computers all because of Twilight! LOL! But that's another story…)
I found a guy who was there sporting a lion and lamb hoodie to support his girl friend. I also found a few non Edward or Jacob shirts. And of course, I got my photo with Stephenie. Laura made me a shirt with the Lexicon image on it. She had attended a book signing in New Jersey a few weeks previous to this and managed to get by without really being spotted or recognized.  So to make sure I was absolutely spotted,  she made the shirt HOT PINK and it said Alphie on the back.  It was my first experience at being recognized as "that girl from the Lexicon!" (You can read all about Laura's experience in an archived post here at the Lexicon.  But here's a photo of Laura at her book signing.)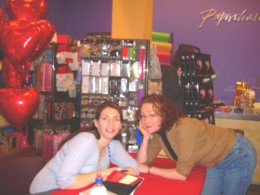 I also attended the Texas Book Festival where Stephenie was on a panel of YA authors that included Lauren Myracle, who wrote ttfn, Tanya Lee Stone, who write A Bad Boy Can Be Good For A Girl, and Kristin Miller, who wrote Kiki Strike.  Each author was given time to read from their book and talk about the characters and then questions were taken from the audience.  Again, the majority of the questions for Stephenie were a bit basic and repetitive.  But there was one great find from the event!  There was a group of young men that attended in order to get Stephenie's autograph for their girlfriends.    When I spoke to Stephenie later she said that one of the guys had a great "Edward" look about him and that she was interested in maybe getting him to come to some events as "Edward."  Jump forward several months and the same guy stood in as Edward at E-Prom! (I've posted a photo of Laura at E-Prom with Edward and Jacob stand ins.)
Stephenie came to Nashville for a book signing and author event in November of 2006.  Since I live in Nashville I was able to whip up a bit of a Twilight weekend complete with Stephenie dropping in on us and reading bits of Midnight Sun while we sat on the floor around her feet in rapt attention!  You can read all about the festivities that took place in part one of an archived post and part two of an archived post.
I got to go to my one and only "I Love Edward Cullen" party that was held at the Davis Kidd bookstore.  The first few fans that called in and reserved a spot at the party got a special ticket to the event.  I believe there were only 35 – 40 people allowed in.  It was a special time to mingle around before the official book signing, to talk to Stephenie, and to take a few quizzes and win prizes.  The highlight of this book signing for me was the fact that I got to introduce Stephenie to the friend who gave me my first copy of Twilight!  Here are some photos from the event as well as a picture of Stephenie with me and my friend Sarah.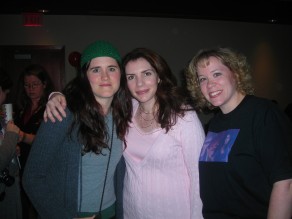 I did attend a few other book signings.  I was able to go to Cincinnati for an Eclipse book signing in 2007. By this time there were so many fans gathering at the book store that they actually had to have crowd management for how many people could fit in the store.  There were wrist bands for when you should line up to get your book signed.  Stephenie's Q & A was maybe 20 minutes long and again full of basic questions that die-hard fans knew the answers to or questions that Stephenie couldn't answer without spoiling the plot.  And you could no longer pause for a photo with Stephenie.  Someone else could take your picture as you walked through the line, but that was the best you could get.
When The Host was released, I went to Salt Lake City to be able to attend two book signings in one weekend.  The venues used were a High School auditorium and an event center so that more fans could attend.  They actually had two sessions at the High School so that the crowd could rotate in and out!  Questions were submitted by the crowd into a box and then taken backstage for Stephenie to sort through and choose the best ones.  This cut down on the number of questions being asked that were repeats of old information.  It also helped her to avoid the questions she couldn't answer.  Again, I have to say that the fan made shirts were amazing!  Here are just a few, and remember these are from a Host book signing.
By the time Breaking Dawn was published, the Twilight fandom had officially exploded.  The movie was underway and casting had been announced.  Stephenie did only four book signings and those were ticketed events with Justin Furstenfeld of Blue October singing some of the songs that have inspired Stephenie's playlists over the years.  Each event held about 1,000 people and questions were submitted before hand via the internet.  I attended the one in New York City that actually happened a few hours before Breaking Dawn was published.  The other events were held in Seattle, Chicago, and Los Angeles.
What I think was the best part of these early book signings is that they were just that – a BOOK signing!  Don't misunderstand me about this part, please.  I have enjoyed watching the fandom grow up around the movies and see how Twilight fans have changed the way Hollywood thinks about the so called "chick flick." But at these early signings, the fans were all there because of their love of what was written on the page!  We all had our own ideas of what "Edward" looked like.  We all imagined how these stories might come to life.  And everyone had read the book!  Imagine getting together for a Twilight related event and not seeing Robert Pattinson's face anywhere!  It was about the text of the book and the way it made us feel.  It was completely book and character driven, rather than actor driven.  Again, I like the movies and actors as much as the next fan, but there was a real difference to the fandom before there was an absolute face associated with each character.  It's difficult to describe, and I've seen it happen with Harry Potter as well.  I'm sure Hunger Games fans will feel it soon enough.  It was a special and unique time that we can't get back when the real star of the show was the words.
We want to hear from you!  Did you go to a Stephenie Meyer book signing?  Let us know about it!  And how do you feel about the change of a book fandom as it enters into a movie fandom? Let us know your thoughts!