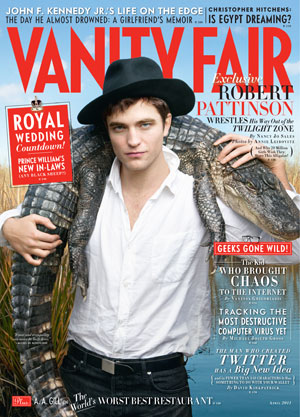 In the issue of Vanity Fair that hits news stands this week, Robert Pattinson talks candidly about his career and the price of fame.
"Robert Pattinson doesn't like to fly anymore, because flying means airports, and airports mean encountering people who might go bananas when they see him, screaming and crying and trying to touch him and asking him to bite their necks. Shy, for an actor, Pattinson, who turns 25 next month, says he finds the hysteria that has surrounded him ever since he first appeared as the gallant teenage vampire Edward Cullen in the first Twilight movie, in 2008, "quite strange."
"This thing with everyone knowing you," he says one day in Baton Rouge, where he's filming the fourth and fifth installments in the Twilight saga, Breaking Dawn: Part I and Part II, "it's weird, because people have this one-sided relationship where they look at your picture and feel they know you more than someone they actually know." And, Pattinson adds, "I don't really know myself that well."
What will be interesting to see is media reaction from people like Chelsea Handler and others. Kristen Stewart gave a similar interview talking about loss of privacy, and was widely greeted with "you're a star, now get over it" commentary. It will be interesting to see if Robert gets the same reaction.
See the full article called Escape from the Twilight Zone here.