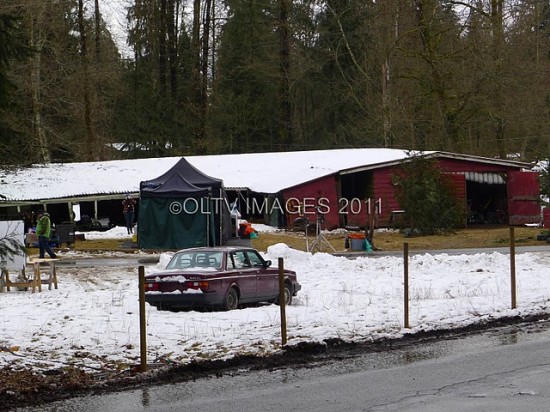 Well it's Vancouver in the winter. If the filming crews have learned one thing over the years filming in Vancouver, it's that you NEVER know what the weather is going to be! Even in the Spring, things can be unpredictable at best.
Notably, Catherine Hardwicke was faced with what had been a lush, green field on one day, suddenly turned into a snowy, muddy mess the next. So much for the meadow scene on location. It ended up reshot in California.
As we have been telling you, the Vancouver shooting is mostly exteriors. Today those exteriors are covered in snow. Supposedly this isn't exactly according to plan, and crews have been seen trying to move the snow without creating a muddy mess (imagine shoveling grass and you get the idea).
Assuming Vancouver isn't clobbered by some of the massive storms the Midwest and the Northeast have gotten this year, it probably won't severely impact schedule.  It's just down to some creative juggling as to which scenes are shot.