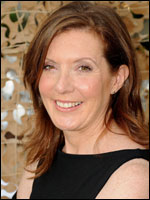 Variety got the scoop!
"Susanna White ("Nanny McPhee Returns") is attached to direct the feature adaptation of "The Host," author Stephenie Meyer's follow-up to "The Twilight Saga."
Nick Wechsler will produce the indie through his eponymous banner, along with Chockstone Pictures' Steve Schwartz and Paula Mae Schwartz."
This is a change from Andrew Nichol, who was originally set as the writer/director. Note there are some websites claiming that production is starting this spring, that has not been confirmed. In our opinion, we would not think the production will really get underway until May, at the earliest, as Stephenie Meyer is fully embroiled with Breaking Dawn filming until then. She has been hands on with the Twilight Saga movies and most likely would have the same clout on The Host movie, especially since it's a small indie company doing the project.
Of particular note is the Twilight connection. Susanna directed Generation Kill that co-starred Kellan Lutz. Kellan's name has long been suggested by fans as a contender for Jared and Ian.
This film will depend on a sense of CGI, a love of romance and action. Check out this Susanna interview. It seems like she might have it all.