You remember Gretchen from TwiIdiot? She's the person who was picked by Collider out of over 700 applicants to write the Eclipse DVD review.
Often times trying to find a design at CafePress can be overwhelming because the search feature isn't the greatest. Well there are a ton of sales going on over at CafePress (some that are over tonight at midnight)and Gretchen's compiled her favorite stores and merchandise. She calls it Tasteful Twilight Gifts. It's a way to celebrate Twilight love without an over abundance of sparkle dust…not that there's anything wrong with sparkle dust. 🙂
We made the list at number 4:
4.  Twilight Lexicon on Cafe Press
The Twilight Lexicon fan site has a lovely Cafe Press storefront with several designs.  Here is my favorite on a throw pillow: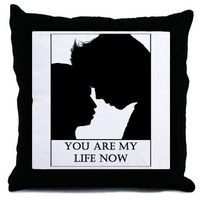 The design also comes on T-shirts, note cards, dog T-shirts, thongs and boxer shorts.  I think the pillow would make a nice wedding gift or go nicely in a black, white and red-themed bedroom.
And your reward for reading this far — here are the three Cafe Press discounts that are running right now.  I will update here periodically as the promotions change.
Spend $40 or more and get free shipping.  Use code: CUPID at check out.

Get 20% off Twilight-related merchandise.  Use code: BELLA at check out.

Get 20% off your order.  Use code: LOVEBUG at check out.
Get the full buying guide here, and she's also asked people to chime in with comments of their favorite stores and merch!