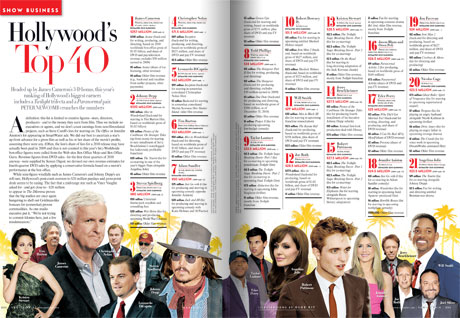 Every year Vanity Fair creates the Top 40 in their March issue list that covers the biggest Hollywood earners. Kristen Stewart, Robert Pattinson, and Taylor Lautner all hit this year's list with the likes of other big-time Hollywood names such as Leonardo DiCaprio, Will Smith, and Sandra Bullock.
Here's a preview of what they had to say about the Twilight connection:
"We can also look to the Twilight kids. That franchise also landed three people on the list.
Speaking of—how did Taylor Lautner find his way in Hollywood's top 10 earners?
He's perhaps the highest-paid teenage star right now. When they first negotiated their contracts, they were getting paid a lot less. Then, with the immense success of the film, the agents went back and renegotiated the deal—Lautner's deal, in particular, was really bumped up. He was actually getting less than the other two stars at the beginning of the Twilight series. For this last installment that they split into two parts, they really ratcheted it up. He's now paid on par with the others."
For the  the rest of the online version click  here. For the full version with write-ups on Rob and Kristen, but the March issue.