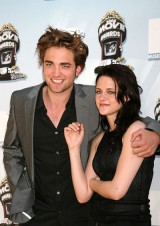 Forbes has ranked the highest ranked actors in 2010 based on the amount of money that their films made. As you might expect Leo DeCaprio and Johnny Depp are on top of the list; however, after that, the list is heavily represented by actors who are under 30. Robert Pattinson comes in number 7 and Kristen Stewart comes in number 8.
According to Forbes:
Robert Pattinson: $749 million
The Twilight films have been perennial earners, so it's no surprise to see Pattinson on this list. He ranks above his costar Kristin Stewart thanks to Remember Me, a weepy romance that earned a healthy $56 million on an estimated budget of $16 million. Pattinson's next film is an adaptation of the bestselling book Water for Elephants.
Kristen Stewart: $698 million
Like her costar Pattinson, Stewart starred in a non-Twilight film this year. It didn't perform very well though. The Runaways brought in only $4.7 million. The finalTwilight book, Breaking Dawn, has been divided into two films that are both sure to be big earners. The first hits theaters in November 2011.
See the whole write up on Forbes.