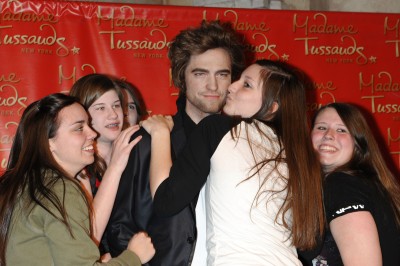 Earlier this year, we told you about the Robert Pattinson wax figure that debuted at Madame Tussaud's in New York City. Well, it seems "Rob" is going on the road.  According to the Madame Tussaud's website:
"Brit born A-lister and star of the phenomenally successful Twilight Saga, Robert Pattinson, visits Madame Tussauds Las Vegas for a limited engagement until November 30!
Robert Pattinson is one of the hottest celebrities in the world and we are excited for his long-awaited visit! We are delighted that we'll be able to give fans the chance to "meet" their idol and pose for pictures with him. They can even give him a kiss on the cheek which is sure to be a big hit with his female followers!
Fans can cozy up with Pattinson at our Big Night Party Room Stage in his trademark sultry expression and messy hair, and his outfit will reflect his rugged style with an open collared shirt and skinny trousers for a unique photo-op and a sure way to make all your friends jealous."
Please be advised that they are talking about a wax figure and not actually Rob. Full details can be found on the Madame Tussaud's website.
Via RPatzNews