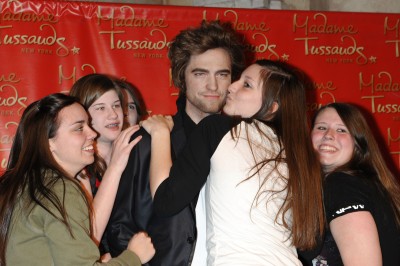 According to the Madam Tussaud's NYC:
"TWILIGHT FANS! Get up close and personal with ROBERT PATTINSON (in wax) at Madame Tussauds New York! Fans mentioning "TEAM EDWARD" at admissions receive one FREE Adult All Access Pass with the purchase of one full price Adult All Access Pass. Starting 7/21/10 the first 100 fans will also receive a free Robert Pattinson Twilight Poster.
*Discount offer valid 1 per party. Cannot be combined with other offers. Not valid for advanced purchases. Expires 8/31/10. Posters are available while supplies last and 1 per party. Code 450
Celebrity sightings happen nearly everywhere in NYC, but the certain place to find the most famous faces is Madame Tussauds New York, the famous wax attraction that makes YOU the star of the show! Sing, dance and mingle with over 200 celebrities in 85,000 square feet of entertainment in Times Square.
For over 200 years, Madame Tussauds attractions worldwide have invited guests to get up close with incredibly lifelike wax figures of pioneers in the entertainment, music, sports and political arenas. From Marilyn to Madonna to Miley, there is a star for every generation. Who do YOU want to meet??"