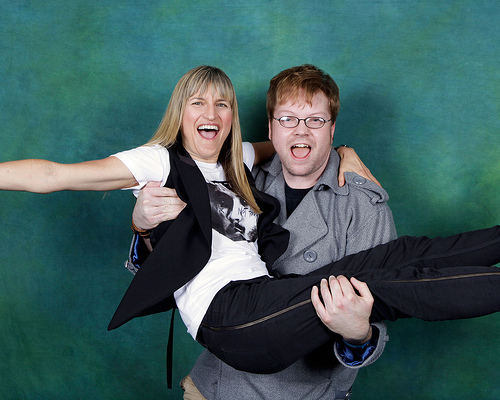 We first met John Henson a little more than a year ago.  We were floored by the original and replica Twilight costumes he had on display at a convention. John has an eye for minute detail that is just stunning. It's not enough for John to get a costume close if he can actually get it exact. John's search for the EXACT not close EXACT Bella's prayer bracelet was amazing.
It was John's eagle eyes that spotted the incorrect tattoo on the original Jacob Black Barbie. They printed the tattoo upside down. Mattel will now replace the arm for free for you so the tattoo is in the right direction.
For those of you who are Hillywood fans, John designed most of their New Moon and Eclipse parody costumes. John also has a cameo in the New Moon parody. He is the tattoo artist who puts the paw print on Bella's (Hilly Hindi's) back.
Since Halloween is coming up and John is the master of Twilight replica costuming, we thought that we would do a Q & A with him.
How did you get into costume design?
Halloween is my favorite holiday and I've always loved dressing up. I learned how to sew by watching my mom, so it became a hobby. At age 13 I became pretty famous in the "Wizard of Oz" world of collectors by replicating Judy Garland's ruby slippers. That started out as a personal project that lead into something much bigger. I had clients that ranged from The Academy of Motion Picture Arts and Sciences to Walt Disney World, The Turner Entertainment Company, The MGM Grand Hotel in Las Vegas, Oprah Winfrey, Diana Ross, Michael Jackson and Liza Minneli. And that was all before I was 17!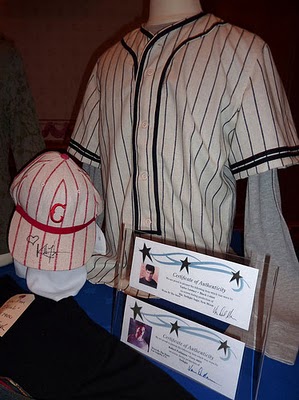 I went to Ringling College of Art and Design for illustration, and stopped making the slippers to concentrate on school. I still see my reproductions pop up on eBay from time to time! After graduation I had the opportunity while working with AT&T to do some pro-bono work with a wonderful charity called Broadway Cares/Equity Fights AIDS in NYC. I 'm involved in their their "Broadway Bears" annual auction. Each bear is dressed in scaled-down, exact replicas of a Broadway costume/hair and makeup and signed by the actor who wore it. They're auctioned off every year in NYC and can fetch as much as $35,000.00! This was my real introduction to full-force costuming, and to think it started with BEARS! I started with RENT in 1999, and have been with them every since. My heart and soul belong to RENT, because I changed so much, learned so much…really…it's a close knit family and the show, literally, changes lives.
I've done many costumes for BC/EFA since, including those from WICKED, LEGALLY BLONDE:THE MUSICAL, DISNEY'S BEAUTY AND THE BEAST, YOU'RE A GOOD MAN, CHARLIE BROWN, THE SECRET GARDEN and CABARET. To see the bears and my varied works beyond the TWILIGHT realm, you can visit my temporary portfolio site here: http://www.coroflot.com/jhartnow
What attracted you to the Twilight franchise? Did you see the books first or the movies?
Oh, I can safely say that I LOVED Edward Cullen long before the movie! I was working in Charleston, South Carolina with AT&T when the 2nd novel came out. It was a Thursday. As an avid reader and lover of fantasy, I couldn't stay in the hotel and watch television all night. So, I found my way to a Barnes and Noble Bookseller. If there's anything I love more than a cloth shop it's a book shop! There was a great display at the front of the store. I picked up the book with the, (now famous and immortal!), hands of Kimbra Hickey holding the apple and read the back. "About three things I was absolutely positive…". How could anyone not be hooked by that?! That was a major WIN on my part, because I bought it…and took it back to that Marriott…and stayed up ALL NIGHT reading it!
I can honestly say I "found out" about Twilight all by myself! By Friday, I had driven back to Columbia with a hardback first edition of NEW MOON. I started the book as soon as I got home. I had dinner plans with friends that night, but by the time I finished Chapter 3, I was so broken up inside. I was crying. I felt like Stephenie Meyer took a piece of my own life and wrote it down for everyone to read. I felt a little odd…here I was, a guy in my late twenties reading this "tween" novel and getting so emotionally involved!
I later had conversations with my brilliant friend Lisa (who is also a Twilight fan, we're the same age, have the same birthday BUT we've never met in person!) about how Stephenie MUST have known the angst, sorrow, tragedy and grief of something so profound. It was written so well and realistically. But Lisa, being a bit more knowledgeable about Meyer filled me in: "John, there's no way. She's a stay-at-home Mom. She's a Mormon and has been with the same guy she's known forever from her hometown in Phoenix". That was when I knew that Stephenie Meyer was an AMAZING story-teller and I haven't looked back since.
I'm a very proud TWILIGHT fan, even if I am thirty-five! I joke around with fans that I'm going to make my own "team" shirts. You know, " Team ImaguyandloveTwilight". Perhaps just "Team COSTUMES" would be suffice…
Which was the first Twilight costume you made and why?
Wow. It's only been a few years, but it seems like forever! The first costume I made was Kristen Stewart's green birthday dress from NEW MOON. I was bringing the costumes from the TWILIGHT film to a CREATION ENTERTAINMENT event, and I really wanted something fun and unique for my cousin to wear to the ball. Of course this was about 6 months before the film (NM) came out and before the HOT TOPIC version, so it was a very unique piece at the time. I did have some "inside" help on the dress, and I still have it. It's beautiful.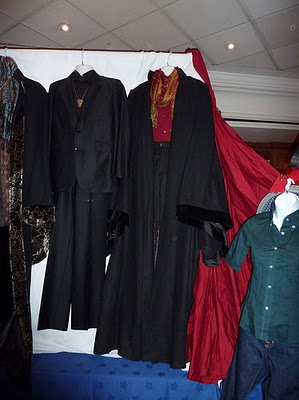 Which costume(s) are you the most proud of and why?
That's easy. The Volturi! I had to recreate all of Tish Monoghan's beautiful designs for THE HILLYWOOD SHOW, and those were all labors of love. I changed them all up slightly to give it my own signature, but they were all, basically, the same design. I just love the dark, rich look of those costumes against the pale skin, the contrast within the Volturi lair…it's such a yin and yang thing…much like The Volturi themselves!

Which of the original costumes that you have is your favorite and why?
By far it's Cam Gigandet's "James" costume. I remember Stephenie saying that she was surprised that people were fans of James. "Team James" and all. How can you not be after you see Cam portray him?! It's just such a neat story behind the costume, too. The jacket is an old 1940's motorcycle jacket that belonged to Catherine Hardwicke. There was only one. They had to film all of Wayland's scenes in it before it was distressed for James. And if you look carefully on his jacket and jeans, there are momento's from all of his kills. The creeper even stole wedding bands and engagement rings to wear as trophies! SICK! The jeans still have mud caked on the bottom of them. I find that kind of stuff really cool!

Can you tell us about your involvement with The Hillywood Show?
We met at a CREATION tour where I had my costumes on display. "Alice" (Hannah Hindi) asked to borrow my duplicate silver ballet flats from Ashley Greene's costume to wear. They were so sweet, gracious and just plain awesome. We sort of melded in the middle with the same thought. I knew I could be an asset to them, and they were thinking the same thing. So, here I am…3 parody films later…and I love every minute I get to spend with them, whether we're tearing up some cheesecake, riding a roller coaster, or shooting all night long to get that "just right" take.
Hannah and Hilly's grandmother Maria is an amazing costumer and seamstress, so she has officially become my adopted Grandma. She insists I call her Grandma Maria! We could spend hours and hours talking about costumes and her amazing history working with legends like Diana Ross at Caesar's Palace.
ECLIPSE Parody is coming out SOON, so stay tuned to my blog, thetwilightcostumecollection.blogspot.com and thehillywoodshow.com for up-to-the-minute news! I honestly have to say that the new parody is going to surprise a lot of people. We've really stepped up our game to live up to our passions, which definitely include some on-the-spot homage to the original film.
Speaking of THS, I had a bit of a laugh recently when I saw my designs for THE HILLYWOOD SHOW appear in the 20th Century Fox feature film, "VAMPIRES SUCK". That was a hoot! I didn't make the credits because they were sealed before I had a chance to talk to their legal department. But, it's all good…I have to say it's kind of an honor when you see your replicas being used for something other than what you intended!

How do you feel about the costumes in each of the movies? What are the hits and misses in your opinion?
Abe Lincoln's quote seems appropriate here, "You can please some of the people some of the time, all of the people some of the time, some of the people all of the time, but you can never please all of the people all of the time." I happen to be a big fan of Catherine Hardwicke and the standard she set for "the look" of each character. As a costumer, working with characters that already exist in literature (usually) design themselves and organically change over time. Where would Bella be without a peasant blouse here and there? Alice without a vest? Rosalie without fierce heels? Jacob without his…well…he doesn't wear much, does he?! (laugh). It's all in their virtual chemical makeup that started in Stephenie Meyer's head!
Have you ever had any contact with the designers from movies?
Indeed I have! Wendy Chuck and I talked quite a bit after the first film came out, and we have to give credit to Catherine Hardwicke for giving direction on those characters. Many of the pieces came out of her own wardrobe! Catherine is such a free spirit…I just love talking with her. Hopefully we will be able to see each other again in the future!
Halloween is coming not to mention various conventions where people want to dress up as their favorite Twilight character. What advice can you offer people who want to get that look just right?
First of all, don't be too critical of yourself. Have FUN with it all, from beginning to end. I know some folks don't have a lot of money to spend on professional costumes or the exact brand of jeans that Kristen Stewart wore. Many of the contemporary looks for nearly the whole cast from all of the films can be found at your local thrift stores. Would that white shirt be perfect if it were only blue? Don't put it back…DYE IT! I can't tell you how many hours go into dying garments that we use on The Hillywood Show! I've had green hands for a week before!
Are you doing any upcoming events where we can see your collection?
I'm not 100% confirmed for anything at this moment, but my agent has me lined up for a few things this year and next year, including possible returns to England for ETERNAL TWILIGHT, Australia for HUB's big Twilight Convention, Twilight Cruise(s) and of course there might be some special Hillywood Show appearances that I'm attending in the near future. Of course you can see my designs on The Hillywood Show cast at all of the Official Twilight Tour stops! Keep an eye out on my blog for news of when and where I might be going next! My email address is there, too…so feel free to drop me a "hello" anytime!