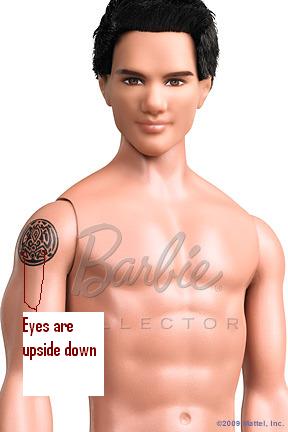 One of the things we love about John Henson who has created the Twilight Costume Collection (filled with actual and replica costumes from the movies) is John's attention to detail. Seriously nothing, and we do mean NOTHING gets by John. He wants things down to the lining in the jacket to be correct.  If you doubt us just ask him about Bella's St. Jude's bracelet and you will get a whole lesson in beads, pictures, stringing etc.
John is also the mastermind who designed the costumes for the Hillywood Show's New Moon parody. John even has a bit part in the video where he plays the tattoo artist. He was so well camouflaged we didn't even realize that it was him at first!
Anyway, John came to us with a very interesting piece of information the other day. John wrote, "I'm not sure if you've seen it or if it's been brought to your attention, but Mattel's new "Jacob Black" doll has his Quileute tribal tattoo painted UPSIDE DOWN on his arm. I noticed it when the first prototype pictures were being posted on the internet, and I didn't call Mattel because I figured that EVERYTHING would change on the actual consumer model. WRONG! I picked up two dolls for the collection yesterday and I was a bit miffed. I can see the oversight…the tattoo is very complex and when your dealing with a replica that's 1/4" scale…blah blah.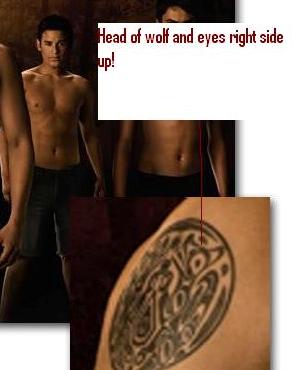 So…. I called Mattel this morning. I talked to a lovely gal named Linda who took all of my information. I told her how important this little detail is to the fans and she's getting the query to the "engineers" immediately. So…feel free to post this information so everyone can run out and buy this initial run of Jacob dolls…it was a limited supply run and now with this error they might be little investments for the future!!!"
So far Mattel hasn't called back. it will be interesting to see it they fix this in the next run, as John says the "flawed dolls" could be a collectible.