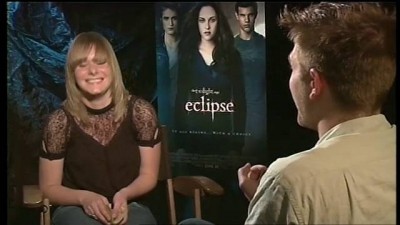 This in from LOVEFiLM.
Fourteen-year-old Shannon Waters from Swindon is the envy of millions of Twilight fans everywhere after spending the day interviewing teen heart throbs Kristen Stewart, Robert Pattinson and Taylor Lautner in LA ahead of the UK release of the third film The Twilight Saga: Eclipse on 9th July.
LOVEFiLM, Europe's largest subscription service streaming movies and TV episodes over the internet and sending DVDs by post, and E1 Entertainment gave UK fans just hours to explain why they deserved to go to LA to meet the A-list celebs. Fourteen year-old Shannon was picked from thousands of entrants across the UK after winning over the judges by explaining how the Twilight characters have given her the confidence to be herself.
Just 48 hours after entering the competition, LOVEFiLM flew Shannon and a chaperone to a four star LA hotel where she could regain her composure before meeting the trio.
Shannon interviewed each of her idols and was able to ask Kristen how it feels to be a role model for young girls, quiz Robert about his favourite scenes before asking Taylor about his connections with his character Jacob.
Shannon commented: "When I found out I'd won the competition I was so excited, it didn't feel real at all. Kristen, Robert and Taylor were all so nice and I got to ask them lots of questions about their characters – Robert is still my favourite. LA was amazing and it all feels like a dream."
Shannon and her Aunt spent a few days taking in the sights of LA then flew back to the UK to tell her friends and family about her once-in-a-lifetime trip.
Helen Cowley, Editor at LOVEFiLM commented: "It's clear to say that the Twilight films and books have had a profound effect on fans. Shannon's entry was really incredibly heartfelt, having told us how Kristen's portrayal as Bella has helped her become more confident in herself."
"It was fantastic to be able to literally make someone's dreams come true and Shannon had an amazing time. Kristen, Robert and Taylor were a lot of fun and really enjoyed chatting to her about the film."
Shannon got to interview Kristen, Taylor, and Rob. The Rob video is particularly adorable.