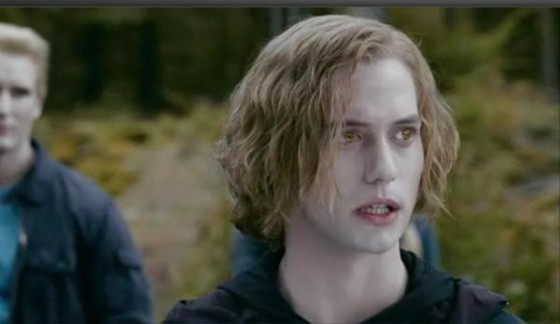 The Los Angeles Times came up with a Twilight Cheat sheet so that people could keep all the characters straight, not that any Lexicon readers will need one! What was also cute, is that if you roll over a character's name you get their mini bio, the actor who is playing that character's favorite scene, and what that actor thinks their character will be doing in 100 years.
We liked Jackson Rathbone's response:
"Jackson Rathbone
Character: Jasper Hale is the adopted son of Carlisle and Esme, adoptive brother of Edward, Emmett, and Rosalie, and husband of Alice.
Back story: In "Twilight," Jasper is pretty low key — until he helps Emmett rip James, a vampire on the hunt for Bella, into pieces. In "New Moon," Jasper's rookie status as a vegetarian vampire is demonstrated after Bella gets a paper cut while opening a birthday present; he's overcome by his thirst for her blood and tries to attack Bella, leading to Edward's to separate the clan from bella. His years as a fighter before he met the Cullens are put to use in training the family for battle. He also votes in favor of transforming Bella into a vampire.
Favorite "Eclipse" scene: "I paid [screenwriter] Melissa Rosenberg to write in a scene where Alice kisses Jasper. I see my bribed pay off," Rathbone says.
Where is Jasper 100 years from now? "Jasper would be right behind Alice; wherever she is, he'll be there."
TY to MTV's Hollwood Crush for the tip