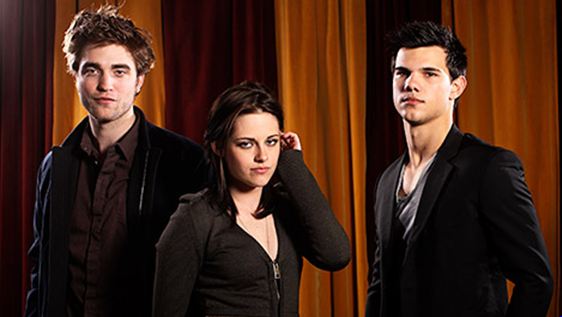 Image Credit: John Gress/Getty Images
Entertainment Weekly has a huge Eclipse issue planned and they have put a tidbit online:
"Entertainment Weekly sat down with Kristen Stewart, Robert Pattinson, and Taylor Lautner for a feature interview running in this week's magazine to discuss the world they inhabit within the Twilight universe — both on screen and off.  The three young stars opened up about coping under the glare of intense media spotlight, how they rely on one another to pull through, what they think of the upcoming final movie, Breaking Dawn, what lies ahead once the franchise wraps, and much more. In this preview, the three stars talk about gearing up for the final chapter of the saga that has changed each of their lives forever.
ENTERTAINMENT WEEKLY: You guys are about to start shooting the two Breaking Dawn movies back to back. You signed on to this franchise before Breaking Dawn was written. When you read it, were you thinking, How is this going to be turned into a movie?
KRISTEN STEWART: Yeah, definitely. What is Renesmee going to look like? Is it going to be this little teeth-baby running around? It's going to be weird.
ROBERT PATTINSON: [Laughs] "Little teeth-baby."
STEWART: Yeah, but I think it's going to be cool. One of the main objectives of the series is to get Bella to a point where she's mature enough to make such a hefty decision, and she goes through a lot. In the fourth one, she is going to become a wife. She is going to become a mom. She is going to become an adult and a vampire. To do it so young, it needs to be believable. So I'm really excited about playing that."
See more on EW and by the issue starting June 25th for the full interview.