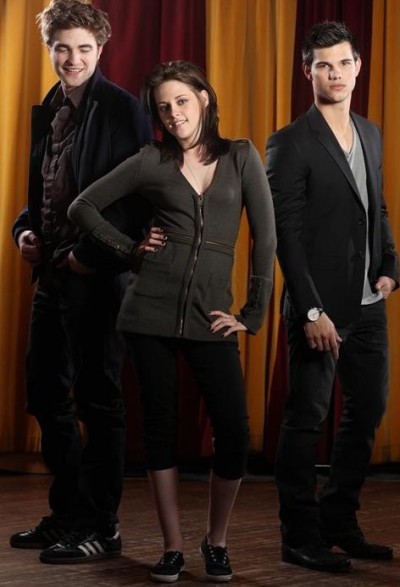 USA Today was able to interview Robert Pattinson, Kristen Stewart, and Taylor Lautner when they were in Chicago for the Oprah show.
"Dashingly disheveled Robert Pattinson has an infectious, high-pitched laugh that would never do for his seductive vampire lover-boy, Edward Cullen.
Buff-and-polished Taylor Lautner is pocket-size compared with the looming stature of his werewolf counterpart, Jacob Black.
Casual yet cool Kristen Stewart can be a real chatterbox, unlike her moody Bella Swan, the high schooler in a romantic tug of war between these two supernatural objects of teen desire.
Lucky girl, right? "Yeah, but that's in the movies," Stewart says about bringing to life the modern-day Gothic heroine from the insanely popular Twilight book series (85 million copies sold so far). "I'm just the ultimate fan. If you read a story and you like it andconnect to it, it probably means you've inserted yourself in the story, and I get to do that on the most glorified level possible."