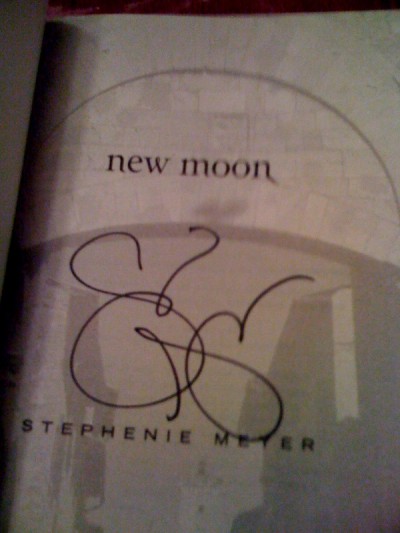 This month we celebrate four years of being on line with the Twilight fandom. We posted a podcast four weeks ago talking about all kinds of funny moments and lessons learned over our time online. Every Wednesday this month we have given away birthday gifts to you, our dedicated readers, as a way of saying thank you for sticking with us and supporting us.
Each week we have asked a question that can be answered by listening to the podcast.  So for the final giveaway we are back at it again. All you have to do is listen to the podcast for the answer and then post your answer here on the blog.
This week's questions is: What caused Pel to film Rob Pattinson's rear end?

This week's prize: A signed, New Moon novel (paperback edition) by Stephenie Meyer.

If you want to win the signed New Moon by Stephenie Meyer, reply to this post with the correct answer. We will choose a winner at at 11:59pm est  on March 31st. Good luck!