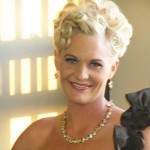 Earlier this week we reported the story of Casey Ray, the woman who went dumpster diving outside a hotel where Anna Kendrick was staying during her filming of Up In the Air and found a New Moon and Memoirs (AKA Remember Me ) script.  You can read the long convoluted tale here. Essentially Casey Ray was suing Summit because she wanted to auction off part of her reward for returning the scripts on Ebay; however, Summit's interpretation of their contract that the reward was for her personally…and thus the lawsuit on a difference of opinion on interpreting the contract.
So flash forward to today and the St. Louis Business Journal which initially broke the story and ran scans of the legal documents is now reporting that the suit has been dropped.
"Ms. Casey Ray and Summit Entertainment are pleased to announce that the case Ms. Ray brought against Summit has been dismissed," Summit said in a statement Wednesday. "The two parties have agreed to a resolution that is mutually satisfactory and Ms. Ray confirms that she is pleased with this outcome and how Summit handled itself in this matter.
Summit did not elaborate on the deal struck, and Ray's attorney, Albert Watkins, referred questions to Summit."
So, we are now left to wonder what the "mutually satisfactory" deal was.  Anyone want to hazard a guess as to what the deal was and if Casey Ray will walk the Remember Me red carpet, see the movie at the premiere, get to go to the after party, and get a signed script by the entire cast because that's what the deal initially was?