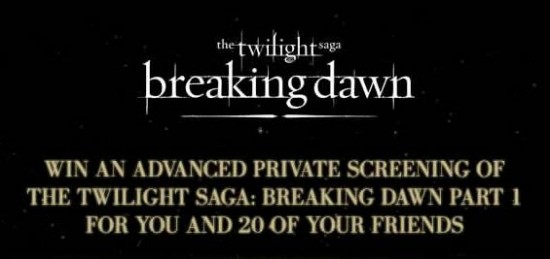 There is an opportunity for one lucky Twilight fan to see Breaking Dawn Part 1 a day early with 20 of your closest friends. Charlie Bewley is running an ultra-marathon (that's 40 miles folks, instead of the regular 26) in the memory of a friend who recently passed away from cancer. His friend, Jocelyn, was also in New Moon, Charlie's silver screen debut, as Dakota Fanning's stand in.
Charlie took to his website to speak from the heart about Jocelyn, and how he is going to put himself out there to raise money in her memory to fight this disease.
"I have no idea if I can run a marathon, let alone an Ultra. I have a competitive 10km time but this is a completely different story. 40 miles, or 60 kilometers. One-and-a-half marathons. The punishment on the body will be crippling…
…But when the struggle begins, what extra incentive will I need when imagining the battle the subject of my cause endured every day during her illness. Since Jocelyn has passed away, I will now be running for the money you have kindly donated to those responsible for treating her illness… so that many others may be given the opportunity to fight as Jocelyn did. Through the BC Cancer Agency www.bccancer.bc.ca, Jocelyn received many rounds of chemotherapy, radiation and naturopathic treatments to help battle her illness. It seems appropriate to give back to those wonderful people who fought alongside Jocelyn in her journey. "
See more on Charlie's website
Charlie's site explains what's in it for Twilight fans:
"In support of this challenge, Summit Entertainment have very kindly donated the wonderful prize of a private screening of Twilight Saga: Breaking Dawn Part 1 the day before general release to one lucky winner and 20 of their friends*. For every dollar sponsored, you will receive one ticket in the draw to win this and many other prizes. All funds raised will be donated to the British Columbia Cancer Foundation which, together with the BC Cancer Agency, helped Jocelyn throughout her illness."
The staff of the Lexicon has gotten to know Charlie during the Official Creation Entertainment Twilight conventions. He is absolutely a down-to-earth, and generous person. Charlie was also the only Twilight saga actor who came to our New Moon live podcast and did so for no appearance fee. Fame, in our opinion, hasn't gotten to his head, and in a business where you go from an unknown to being catapulted into the spotlight, staying grounded is an accomplishment in of itself. We understand that there are many, many worthy causes supported by the actors. If you are able, please donate  because cancer is something that can strike any of us at any time.