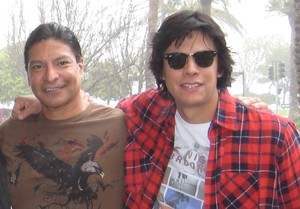 This summer at the first Italian Twilight convention in Rome, I had the pleasure of meeting Cleopatra who runs the website Team Edward POV. Cleopatra hails from Greece, she is a fanfic author, and she runs a great website. Today, she is sharing her interview with Gil Birmingham who was also at the convention.
Would you like to tell us more about your new movie with Chaske? It is called Shouting Secrets, right?
Yes, Shouting Secrets is a story of a family dealing with the history of the interactions between the different members. When one member tells the stories of the family in a book and then that book becomes a best seller. The writer of the book separates from the family and starts living in the big city, enjoying the big life being a celebrity. He is not revisited his origins for many years until his mother befalls sick and he is forced to come back and deal with all the tension, resentments and the love that still really exists between all the different family members and how they have come to a resolution with that.
It was hard to play that character while Chaske played another, considering your history with Twilight and your dynamic? Or you had chemistry so it was easier for you to fight?
Yes, we have a chemistry because we have done 5 movies together already, it's not just Twilight. And we have great trust between us to be able to access that emotional body that was necessary for these characters. It's like two people kind of jumping off a cliff together and trusting each other and what would come from that. So, it was really a wonderful experience to deal at safe with another actor.
Read the rest of the interview on Team Edward POV.
Check out Shouting Secrets on Twitter and the next Italian Twilight convention here.