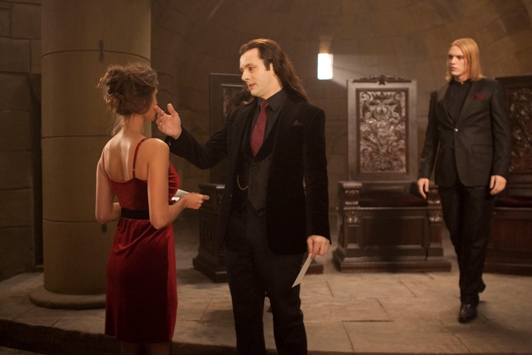 Bill Condon announced to the fandom that Robert Pattinson and Kristen Stewart would be returning to Vancouver to shoot additional material. It now looks like Michael Sheen will be there too. Jack Morrissey, Bill Condon's partner revealed the following on his regular podcast.
"It's less than a week, and we already know that Rob and Kristen will be there; I just tweeted yesterday that yes, there will be wigs involved, but I did blur the line by pointing out that Michael Sheen will also doubtless be spotted throughout the Vancouver airport to reprise for one last time his part of Aro the leader of the Volturi . . . As Bill mentioned in his letter to the fans, Rob and Kristen will be donning their gold contacts one last time . . . She's donning both [red and gold], and Michael Sheen will be donning red."
Morrissey further clarified that the shots being done do not involve dialogue and are all items from the second until. Usually second until is background footage, or things not involving one-on-one dialogue with the principals. In other words some typical examples would be long shots, action sequences, sweeping vistas. For example, during our New Moon set visit we saw Chris Weitz shooting the scene where Sam brings Bella back to Charlie. This was first unit director work. On that very same night, the second unit was in a different location shooting Victoria running through the woods. The was no dialogue but a lot of hoisting Rachelle Lefevre and her stunt double up and down in wire rigs.
As we previously reported, shooting additional footage has occurred on every film and is fairly common in the industry. Catherine Hardwicke reshoot part of the meadow scene in California after filming had wrapped. Chris Weitz shot the Cullen flashback scene after filming had wrapped. David Slade had to reshoot portions of the tent scene and. And not exactly a reshoot, but Bill Condon ended up shooting in the Virgin Islands on the last days of production when stormy weather mucked up honeymoon shots in Brazil.
You can see a summary of the podcast here on Twilight Examiner and you can listen to then entire podcast (not it's not PG-13 and you probably want to skip the Smodcast intro if you are at work, it wouldn't be considered worksafe at my place of business) here.
EDITED: I just spoke with Jack Morrissey who read your comments and he believes he spoke out of turn by stating Kristen would be in gold contacts. he now believes it's red contacts only.