Imperial Mammoth played Requiem on Water in the MySpace offices. Check it out.
On the Breaking Dawn premiere carpet, we had the chance to interview legendary music supervisor, Alex Patsavas, and The Breaking Dawn Soundtrack artists: Cider Sky, Imperial Mammoth, and Mia Maestro who also plays Carmen.
We want to give a shout out to our Breaking Dawn premiere buddies: Twilight Examiner, Twilight facebook, and Twilight Series Theories!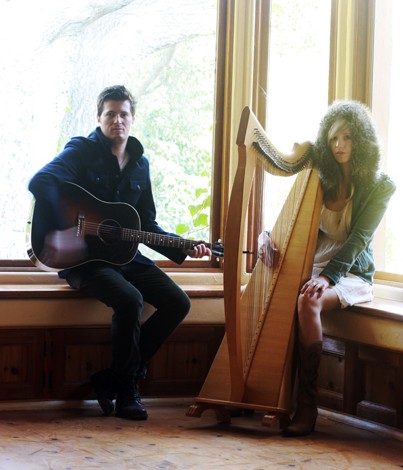 Imperial Mammoth, a new band to many of our readers, and a relatively new band on the indie music scene, talks with The Pattinson Post about how their appearance on the Breaking Dawn soundtrack came about.
Pattinson Post:Tell us a little about how Imperial Mammoth came to be.

Imperial Mammoth:Well we're a couple, and we live together — actually about to be married. Originally we did our own things musically, Leonard in bands, Laura Jane as a singer-songwriter. It wasn't until we had some downtime when Laura was recovering from knee surgery that we started writing the songs that eventually became Imperial Mammoth. We'd lay in bed for hours at a time, playing guitar and harmonizing. There was something wonderful about that simplicity that we try to bring to every song, starting with just our main instruments — acoustic guitar for Leonard, celtic harp for Laura Jane — and our voices.

PP:How did you find out you were going to be on the Breaking Dawn soundtrack?

IM: We submitted as a shot-in-the-dark kind of thing. We were big fans of the Twilight series and of the soundtracks and it was one of those serendipitous things like "why not?" We didn't give it much thought beyond that and it sort of slipped out of our minds. Months later, Laura got a call out of the blue from Alex Patsavas, a big hero of ours (Eds Note: Alex is behind Chop Shop Music and also selects the music for the Twilight movie soundtracks. More info here.). She said that she had just been to an early screening of Breaking Dawn and that our song was in it. We couldn't tell anybody for the longest time, which was strange to have to go about nearly bursting from excitement while pretending that nothing had happened.
See more on The Pattinson Post