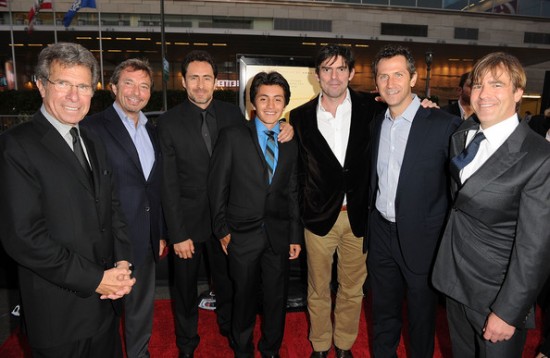 Erik Feig(a Summit Executive), Melissa Rosenberg (Twilight Saga screenwriter) and Chris Weitz (the director of The Golden Compass, New Moon and A Better Life) have cited the Harry Potter films as industry inspirations and changers. In the above photo, taken at the A Better Life premiere, Erik Feig is standing to Chris Weitz's immediate left:
Erik Feig:
'"There was a sea change with Harry Potter," says Erik Feig, president of worldwide production at Summit Entertainment, which has made the Twilight movies. "The story has a younger protagonist, but the book series and the movies are greatly enjoyed by older people, too. I devoured the first book and gave it to every grown-up I knew. We saw the same thing with Twilight. We did not ghetto-ize it as a young-adult movie. Nor did they with Harry Potter. They drew all audiences. It was an inspiration to us."
Chris Weitz:
"The impact of the Potter series has been tremendous in that it has essentially become the idea of a modern franchise," says director Chris Weitz (Twilight: New Moon; The Golden Compass). "They latched onto something that has its own sequels built in. Now everyone is looking for a literary property that extends enough for them to keep on building.
"It's led to this speculative bubble in mystical young-adult fiction. Twilight found its own way to hit upon the hunger for the supernatural and a particular time of life. But if you look at the bookshelves now, half of what is coming out in (young-adult) fiction is about a werewolf or a vampire or angels or demons. The other half is about magic and wizardry."
Melissa Rosenberg:
"The Harry Potter filmmakers and screenwriter Steve Kloves really respected the fans," says Melissa Rosenberg, who has written the screenplay for each Twilight movie. "When you're adapting a book series and you have that kind of fan base, you really have to deliver. You can't just use the books as a jumping-off basis for another story. When I see a Harry Potter movie, I forget what is missing. Because Kloves is taking me and those kids on the same emotional journey as the book does."
This is really a not to be missed article. Check it out on USA Today.