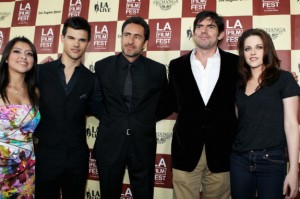 Well, sort of. Demian Bichir is currently one of the OSCAR nominees for his role in Chris Wietz's first post Twilight film called A Better Life. He tells Collider that it came about because of a New Moon meeting.
Hadn't you met with Chris Weitz a few years prior to making this film?

BICHIR: It was not so many years back, but I got a call from my agents saying that I had an audition for New Moon. It was not in my plans to become a vampire, but I wanted to meet Chris Weitz. So, I went to talk to him and I remember that we started talking about this gardener. He started telling me everything about this story about an undocumented worker, and I just couldn't get it straight. I thought it was a gardener vampire, or something like that. I was a little bit confused. And then, he told me, "We don't have a script yet, but I'd like you to read it, as soon as we have it ready." A year later, I got ahold of the script and I fell in love with it instantly.
See more on Collider