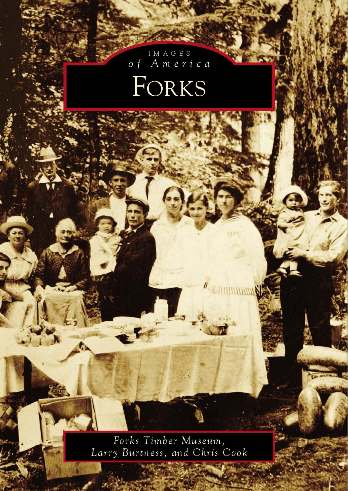 Chris Cook is the editor of the Forks Forum newspaper. We had the opportunity to meet him a few years ago, and he's a really great guy. He knows so much about Forks history, but what's more important is that he's a great storyteller. Chris has a new book out (he already has what we consider to be the best Twilight Guide to Forks). Check out the press release.
The newest addition to Arcadia Publishing's popular Images of America series is Forks from local authors Larry Burtness, Chris Cook, and the Forks Timber Museum. The book boasts more than 200 vintage images and memories of days gone by.
Forks is a community rich in logging heritage. Situated on a prairie between the forks of rivers, the town sits amidst the beauty of the vast rain forest of Washington State's Olympic Peninsula's west end.
Settled in the mid-1870s by pioneer homesteading farmers, Forks's name reflects its location at the confluence of the Calawah, Bogachiel, and Sol Duc Rivers. The town's annual average rainfall of approximately 120 inches is legendary, making it the rainiest incorporated city in the contiguous states.
Forks is a hub for Olympic Peninsula visitors, drawn by world-class salmon and steelhead fishing and by the wonders of the Olympic National Park and the sea stack–lined Pacific Coast. Most recently, Forks has made a name for itself as the home to vampires and werewolves in Stephenie Meyer's best-selling Twilight series.
Highlights of Forks:
• The pioneers
• Early logging years
• Becoming a town
• Transportation
• World War II and postwar
Available at area bookstores, independent retailers, and online retailers, or through Arcadia Publishing at www.arcadiapublishing.com