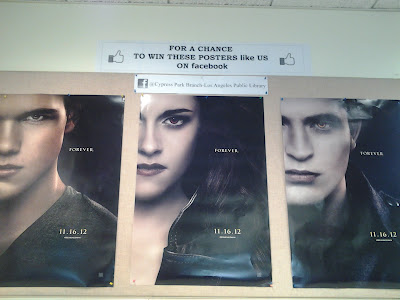 The Library emailed in to tell us about this one.
From now until the release of Twilight: Breaking Dawn Part 2, we'll be giving away sets of  3 "Twilight" movie posters. 

There will be different ways to win each giveaway so keep an eye on our Facebook, Twitter and Instagram accounts for your chance. 

The first winner will be selected Monday, June 18th, celebrating the 150 day mark until the theater release and randomly until the movie hits theaters.

First Giveaway

A link to this blog entry will be posted on our Facebook acct. In order to win you must "like" that post on Facebook only. Your entry will not be counted if it's not "liked" on Facebook. 

We'll select a random winner for the first contest and he/she will be announced on Facebook on Monday, June 18th. 
See their blogspot and facebook page.