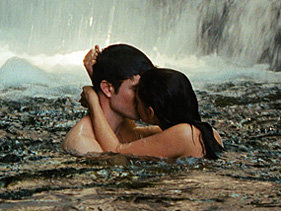 Breaking Dawn is up for The Best Kiss Award in the MTV Movie Awards. MTV thinks Breaking Dawn part one has the edge to take home the prize again.
According to MTV
Their competitors this year are actually pretty fierce: Ryan Gosling and Emma Stone ("Crazy, Stupid, Love."), Rupert Grint and Emma Watson ("Harry Potter and the Deathly Hallows, Part 2"), Jennifer Lawrence and Josh Hutcherson ("The Hunger Games"), and Rachel McAdams and Channing Tatum ("The Vow").

Stiff competition or not, because Stewart and Pattinson have such a seriously dedicated fanbase and a great track record with both their Movie Awards appearances and award acceptances, we're betting the odds are in their favor.
Taking a look at the other nominees, the only kiss that could really be called steamy, other than the Breaking dawn Kiss, is the one between Rachel McAdams and Channing Tatum, and steamy tends to win this award.
Last year you may remember that Robert Pattinson and Taylor Launter had some fun with the crowd celebrating the kiss win.