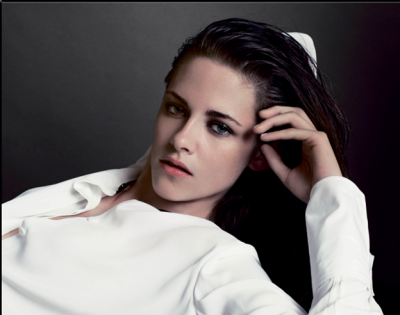 There is a full fashion spread to go along with the interview.
Stewart has never conquered the Great White Way, but she'd be up for it. ("Theater is a completely different way of working, but, yeah, I would be very much down.") She also tosses out the idea of being part of an ensemble cast that would ideally include fellow actresses whose work she greatly admires. (How many starlets do you hear saying that these days?) "There are so many cool girls out there!" she says, name-checking Jennifer Lawrence, Amy Adams, and her best friend, Dakota Fanning. 

"I am not closed off to anything right now," she says, smiling. "That is what I was saying about not having any more walls up. I don't want to deprive myself of any bit of life." By the end of our conversation, Stewart is a bit more relaxed—hair down, glasses off, bomber jacket removed—and cracking jokes aplenty. That nervousness she was experiencing before has apparently been channeled. Like a true Beatnik, she is embracing life as it comes.  
See more on V Magazine