MTV's TwiFight is still in full swing. Make sure you vote to avoid bizarre upsets like Quil taking out Jacob!  MTV asked some Twilight site operators what they thought of the upset. Laura chimed in for the Lexicon and our red carpet buddy, Kallie of Twilight Series Theories, put in her two cents too.
"I have to say it shocked me and not much shocks me when it comes to Twilight!" said Laura Byrne-Cristiano, co-owner of Twilight Lexicon. "The only thing that I can think of is that people forgot to vote on the right side of the bracket. Tyson Houseman is a nice guy, but I didn't think his fans would oust Taylor Lautner and Jacob!"

Kallie Mathews of Twilight Series Theories worked up a sound case for the fact that fans might have voted with just the final movie in mind, which focuses mainly on Bella and Edward.

" 'Breaking Dawn' is all about Bella and Edward, and the way the book has been split up for the movie has put even more emphasis on their relationship," Matthews said. "I'm sure we'll see some of Jacob and Nessie, but I think fans are holding out for them to take on the lead roles in their own story someday."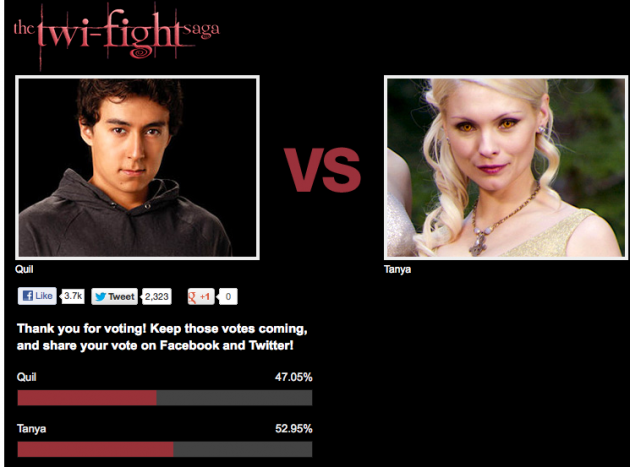 Right now it's at neck-in-neck battle between Quil and Tayna, Carlise and Esme, and Jasper and Renesmee! VOTE VOTE VOTE!