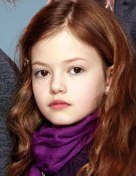 Next Movie has a list of actors likely to rise to the next level after their fall movies are seen. Mackenzie Foy who plays Renesmee landed on the list.
Why She'll Be a Star: Much to Robsten fans' dismay, the lovely 11-year-old may be the only offspring (fictional or real) to ever belong to "Twilight" stars and off-screen exes Robert Pattinson and Kristen Stewart. As Renesmee, the hybrid human-vampire daughter of Edward and Bella Cullen, Foy (who says she's too young to have read the books) gets to interact with the franchise's biggest players — including Taylor Lautner, her adoring imprinted werewolf Jacob.
See the entire list on Next Movie.