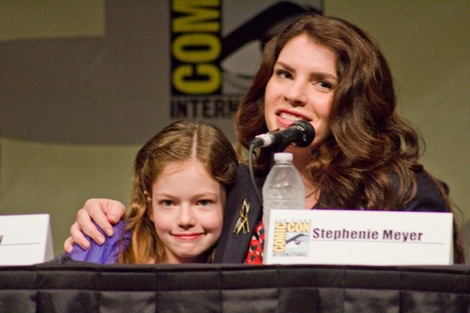 Laura has her bimonthly Movies.com column up. this time out she talks about MacKenzie Foy and just how adorable won over Hall H.
One of the things about Foy is the fact that she does uncannily resemble both Robert Pattinson and Kristen Stewart. In a franchise that is very concerned with character appearance, this was one hurdle met. In an interview last year, director Bill Condon spoke about the resemblances and being overjoyed that Foy both looked the part and had the acting chops as well. "Mackenzie Foy was like; wow that's it [with her audition]. She looks like their daughter and there's just a quality she had, you know. I mean and it was such a relief because Renesmee was so tough to picture and imagine, you know? So I have to say she was just like, I think we've got it right there, and then I showed her to everybody else and everybody agreed." Fans also echoed Condon's sentiment. Every time Foy spoke there were audible, adoring sighs from the crowd.
See the rest on Movies.com
Just to add to the adorableness of MacKenzie, at Comic Con I was in the interview suite waiting my turn to interview several Twilight actors for Movies.com when I spied MacKenzie sneak over at a closet pull something out and hide it behind her back. I instantly thought what was up with that? She was failing dreadfully at being furtive all the while thinking she was succeeding at stealth in they way only 11-year-olds can. Well, about a minute later I found out. When she told one of the room handlers, "Excuse me I have to give something to Mr. Jackson". She pulled a stuffed toy from behind her back and presented it to Jackson Rathbone for his newborn son, who was at that time roughly a week old. There were no cameras on her. She had no idea I was about to start an interview. It was just a great kid, being a great kid, and Jackson seemed rather touched too.